6 Low-Cost Employee Appreciation Day Ideas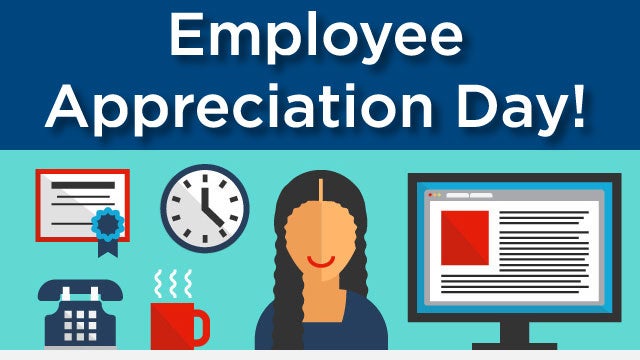 Employee Appreciation Day is March 3, 2017
Looking for Employee Appreciation Day Ideas? Here are 6 low-cost ways to show your employees that they are valued on Employee Appreciation Day.
Hand-write a note of thanks to your employee for a specific attitude, behavior or contribution that you appreciate.

Surprise your employee with a snack he or she loves. Don't forget to attach a thank-you note.

Send a photo ecard with a personal note of thanks. Hint: download the irecognize app to do it for free!

Bring in lunch or coffee for the team. Before serving make a few comments about how important each individual is to the success of the group.

Provide each manager with a RecognizeMe kit containing certificates and rewards to present to their team.

Host a fun off-site event, like a bocce tournament or bowling, a concert or cooking class. How about an exotic chocolate tasting? Keep your company culture in mind when considering employee appreciation event ideas, and be sure the event includes messaging that communicates your appreciation to employees!
It's common sense: when employees feel valued and appreciated for their contributions, they are far more likely to invest their discretionary effort into helping the organization succeed.
Yet, while Employee Recognition is one of the most high-impact and low-cost human resources strategies you can adopt for your organization, many businesses struggle to develop a sustainable framework for giving their employees consistent, meaningful recognition when they do great work.
Leaders who are effective in this area put forth an intentional effort to pay attention to the attitudes, behaviors and contributions that your employees demonstrate in their day-to-day efforts. If you're looking to develop a culture of employee appreciation to last beyond just Employee Appreciation Day gifts, read on!
An effective organization-wide employee appreciation or employee recognition strategy requires:
1. A sustainable framework that makes it simple to recognize an employee for above and beyond contributions
2. Training to educate your team on how, when, and why to give recognition
3. Accountability to ensure that employee appreciation is happening on a consistent basis in your organization
4. Visibility for the achievements and contributions of employees across the organization.
If you would like ideas for developing a culture of employee appreciation in your organization, Terryberry is ready to assist. Contact us today to get started!