Searching for unique or creative award names for employee recognition awards? Choose from the 127 creative recognition award titles for employees below to brand your program, or use to get your own ideas flowing. Find recognition award title ideas for:
Consider names that reflect your organization's unique company culture when browsing this list or generating your own award name ideas.
Need help getting started with your employee recognition program?  We're here to assist!
Download 35 Employee Recognition Ideas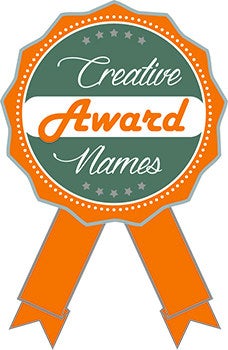 Commend your top performers with creative award names that imply membership to an elite group. Make your organization's stars feel proud of the efforts they've made to achieve this award.
President's Circle

Chairman's Award

President's Award

Executive Choice

Leadership Award

Pinnacle Award

Summit Award

Paramount Achievement

Five-Star Honors

Limelight Award

Spotlight Award

Standing Ovation

Capital Achievement

Hero Award

Superstar Award

Shining Star Award

Leadership Impact

Circle of Excellence

Hall of Fame

Honor Club

Diamond Club

Leaderboard Award
Good customer service is crucial to your organization's success. Choose creative award ideas to remind your employees that you've noticed their hard work and that their ability to keep customer relations smooth is appreciated.
Calmer of Storms

Customer Whisperer

Client Comforter

Platinum Service Award

Diamond Service Award

Customer Hero Award

Consider it Done Award

Fire Fighter Award

Chief Happiness Director

Circle of Joy Award

First Class Service

Star Service

Customer Care Award

Customer Kudos

Star Award
When employees perform tasks far beyond their job descriptions, special recognition is deserved. Here are some ideas.
Exceeding Expectations

Ace of Initiative

They Did What? Wow.

Look out world, success is here.

Cruising and Crushing it

Cloud 9 Collaborator

Highest of High Fives

Exceeding Everest

Hyper Helper

Bringing it Beyond

WOW Award

High Five Award

Beyond the Call of Duty

#Excellence

#Respect

Spot Award
Recognition from peers is highly valued, especially when it seems that supervisors might not notice the extra effort. Here are some award titles for employees who are highly praised by their coworkers.
Associate Appreciation

Sidekick Salute

You're a Gem

High Five Award

Team Player Award

Ripple Effect Award

Key Contributor

On Point Award

PROPS

3 Cheers

#Cheers

Tip Your Hat

Stellar Success

Galactic Gratitude

Round of Applause

Thumbs Up
If attendance is an important focus at your company, use fun award titles for employees who come to work without fail. Make sure they know you've noticed.
Perfect Presence

Superb Showing

Aces all Day

Absolute Attendance

Prime Participation

Immaculate Attendance

All Day Everyday
Starting a new job can be intimidating, but you can make it easier by letting new employees know they're wanted and appreciated with these creative award names.
Bright Beginning

Welcome and Wanted

Rockstar Rookie

Draft Pick

New Contributor

Initiated

Good Addition Award

Future is Bright

Fast Starter

Welcome to Our World

Welcome to Awesome
Is your sales team the best of the best? Show them how much their work means to you with award titles for employees who keep on closing deals.
Big Kahuna Award

Chief Closer

V12 Award
Safety on the job is a number one concern. When your employees go beyond the call of duty to maintain a safe workplace, make sure to call them out with appropriate recognition.
Superbly Safe

Silver Shield Award

Constant Caution

Expert Accuracy

Safety Star Award
When an employee retires from your company, it's a show of loyalty on both sides. Make it memorable with creative award names for retirees.
Permanent Recess

We Bid You Adieu

Good Luck and Goodbye

Farewell Friend

Start of a New Journey

Going Out On Top

Missing the Master

Leaving a Legacy

Heroes are Remembered, Legends Never Die

Exiting in Excellence

Departing Dignified

Fun with 401k
Volunteers are a special breed – not everyone wants to donate their valuable time for a cause. Honor those who do with one of these titles.
All for One, One for all

Constant Contributor

Positive Participator

Getting Busy with It

Hop, Skip, and a Jump On It

Round of Applause

Making a Difference

World Changer
Teams need recognition too! Beyond individuals, if you have groups of employees who do amazing work together, be sure to recognize them.
Team Impact Award

Team Awesome Award
Funny Award Names for Recognition
Looking for a laugh or more inspiration, check out our blog post with tons of funny names for recognition awards.
Learn More