Give Managers What They Need for Staff Recognition

With Terryberry's AwardYourTeam employee recognition platform, group leaders have the tools at their fingertips to recognize and reward their staff for great work.
This incredibly powerful, yet cost-effective employee recognition platform makes it simple for managers to give their employees the recognition they need to thrive.  Managers can reward their teams on-the-spot for great work, review nominations from peers, and access powerful reports to spot rising stars and identify mentoring opportunities.
Download Brochure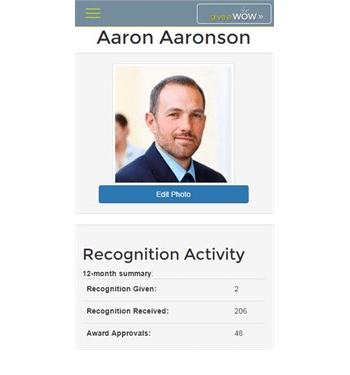 Why Manager-Driven Staff Recognition is Important
As leaders in the company, managers' recognition of employees often carries the most weight. When recognized for a job well done by their manager, employees' morale can be boosted considerably, leading to more pride in their work and in the company as a whole. Because managers are in charge of raises, promotions and bonuses, manager-driven staff recognition programs are a great way to ensure employees feel they are receiving the appreciation they deserve and that their efforts are being noticed.
Terryberry Makes Manager-Driven Staff Recognition Easy
A Robust, Flexible Recognition Tool for Managers
A layered, permissions-based structure enables you to give managers, supervisors and directors oversight of their groups and a budget to recognize their teams.  Tiered admin levels are available for teams, departments, locations and divisions.  Whether your team has 3 people or 300,000, the robust and flexible platform can be configured to fit your business model.
Online options for staff recognition programs make it simple for managers to recognize their employees. Our platform, AwardYourTeam, offers these features:
Easy to use
Simple to manage
Interactive format allows for peer participation
Instant recognition
Identify rising stars
Connect recognition to your team's core values
Tiered structure for departments, divisions, locations and more
Encourage positive personal interaction
What Terryberry Customers Are Saying
"I was impressed with your team's proactive approach. Kelly was on top of everything. We had very little time to turn around. I had been talking with other companies as well. What was the biggest differentiator was the proactive approach by your team."

– Malik Surani
"I loved the simplicity and ease of the website, great for employees that aren't as tech savvy. Brochures are a nice touch."

– Sheefa Pharmacy and Wellness Center