Give a WOW is the premiere platform for peer to peer recognition in the workplace.  Create a dynamic culture of appreciation through the social-media style interface that makes recognition simple, fun and meaningful.
With Give a WOW, employees can give and receive recognition for great work in real time. Flexible for businesses small and large, Give a WOW is customized for your core values so that each recognition moment reinforces your mission on a daily basis.
Watch the 5-minute demo
Terryberry Makes Peer Recognition Awards Easy
Give a WOW connects people to each other and a shared mission through genuine appreciation:
Easy to use; simple to manage
Highlight successes in your business
Give recognition in real time
Identify your rising stars
Reinforce your corporate values
Build a positive workplace culture
Discover the difference that Give a WOW can make in your workplace. Contact us for a demo or to learn more about Terryberry's Give a WOW peer to peer recognition program.
Video Gallery - How it Works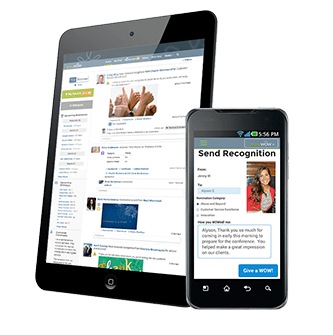 The Give a WOW Difference – Why a Social Recognition Program is Important
A little appreciation makes a world of difference – especially in the workplace. To perform at their best, employees need to know that their hard work is noticed and appreciated.
Managers might not be around to witness each and every employee achievement. Often fellow employees are the ones who experience their peers' contributions first-hand. They might notice a situation when a co-worker stepped in to help in the eleventh hour. Or, they might know an employee who takes on extra tasks frequently and without complaining.
Peer to peer employee recognition programs can help your company foster a sense of community and teamwork. When employees are able to publicly recognize each other for a job well done, it can add a big impact. It can also be a much more effective system in today's global environment, where managers or other supervisors may not even be in the same location as their employees.
Inviting employees to participate in giving recognition for great work when they see it is an important way to engage everyone in your organization. Terryberry's Give a WOW program for peer-to-peer recognition awards allows employees to do just that.
Why WOW
Give a WOW Quickstart Pricing
Give a WOW Quickstart
1-50 users $99.00/month
51-99 users $187.50/month
100-249 users $250/month
250-499 users $312.50/month
500-999 users $375/month
1000-4,999 users $437.50/month
5,000-9,999 users $687.50/month
10,000-20,000 users $1,250.00/month
20,000+ users $2,500.00/month
Learn More
Start a Free Trial of Give a WOW
Give it a spin. With our free 90 day trial, you can set up your peer-to-peer recognition website, add your core values, invite your team, and give and receive recognition!
Start a Free Trial
Give a WOW PRO
Give a WOW PRO can be custom-configured for your organization's needs. Here are just a few of the additional options available in Give a WOW PRO.
Add tangible awards options to your program
Banners and buttons custom branding
Advanced permissions settings
Custom nomination review workflows
Single Sign On (SSO)
Location, department, and team directories
Advanced reporting and analytics
Your Brand. Your Culture.  Your Give a WOW.


Contact us for a proposal
What Terryberry Customers Are Saying
"Our program was getting unwieldy to manage on our own. Terryberry met the need and came with excellent references."

– Denice, NH Bar Association
"Thank everyone there from us – from design to execution, you provided us with what we wanted at a very reasonable cost."

– M. M.Legal Aid Services of Oklahoma