Reward a Commitment to Safety on the Job
Recognize safety achievements in your organization with safety awards from Terryberry.  With the experience and resources to help you at any stage, we can assist with program design and goal-setting, award selection, promotion, and fulfillment. Our goal is to help you succeed.
Download Brochure
Why Safety Awards Are Important
There is no higher concern at your organization than employee safety and well-being. In addition to your concern for individual employees' health and safety, the level of safety of your workplace affects every aspect of your business, including productivity, ROI and retention. Especially if your industry involves hazards, when your employees go above and beyond to adhere to standards, watch out for one another or suggest improvements to procedures to reduce accidents, this can go a long way to making your company a better place to work. Use safety awards to show your appreciation for those employees who are making a difference.
Terryberry Makes Safety Awards Easy
Choose from a variety of products and online programs to implement your safety awards program right away.
Safety Awards Products
Custom award rings are a distinctive choice for top safety achievements.  Award rings can be customized with a logo, name and the safety initiative or milestone.
Award watches are a unique safety incentive that tastefully showcases your logo and can be personalized for the recipient.
Engraved awards offer a permanent display to commemorate a safety achievement.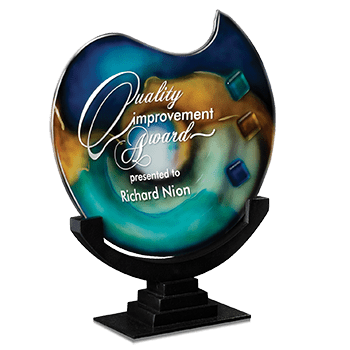 Online Safety Awards Program
AwardPoints is an online points-based sales recognition program for ongoing motivation. Participants earn points as they reach safety goals, and they can redeem points for rewards from Terryberry's large catalog of brand name gifts.
What Terryberry Customers Are Saying
"Terryberry offered everything we were looking for (range of gifts, on-line ordering, flexibility on shipping) and Arvid really listened to what I said on the phone. When we sat down together, he had built a presentation that included our logos, objectives that reflected what we had in mind, and the fit seemed right."

– Christina, Trinity Wall Street
"Terryberry offered everything we wanted at the time, as well as several things on our future "wish" list. It amounted to one stop shopping!"

– Leanne, Widex Canada Ltd.
Getting Started
No matter what your safety awards needs, Terryberry's award consultants can help you implement a safety recognition program that help you achieve your safety goals. Contact us to discuss your needs or to get ideas.