Workify Conversations transforms communication between leaders and employees by providing a safe space to share feedback and enabling leaders to start a conversation about important issues.
How it Works
Conversations enables you to quickly identify and manage key issues within your organization by:
Providing employees with a safe space to share candid feedback, either anonymously or directly
Enabling leaders to respond to that feedback to better understand and manage key issues
Providing admins with a simple interface to manage and monitor suggestions.
Submitting a Suggestion
To submit a suggestion, users have two options: logging into Workify and submitting through the Conversations portal or they can submit conversations via SMS text message.
To submit conversations through the first option, users should first log into Workify and access the conversations feature on the first page they land on.

The user interface is straightforward and enables users to toggle whether they would like to submit their suggestion anonymously or attributed with their identity. Most users choose to post anonymously.

To submit conversations through SMS text messages, simply submit your ideas via text message to the Workify Conversations phone number.
After you submit your feedback, you will receive a confirmation text from a new number. This new thread will be where you will receive responses and continue the dialog around your initial submission.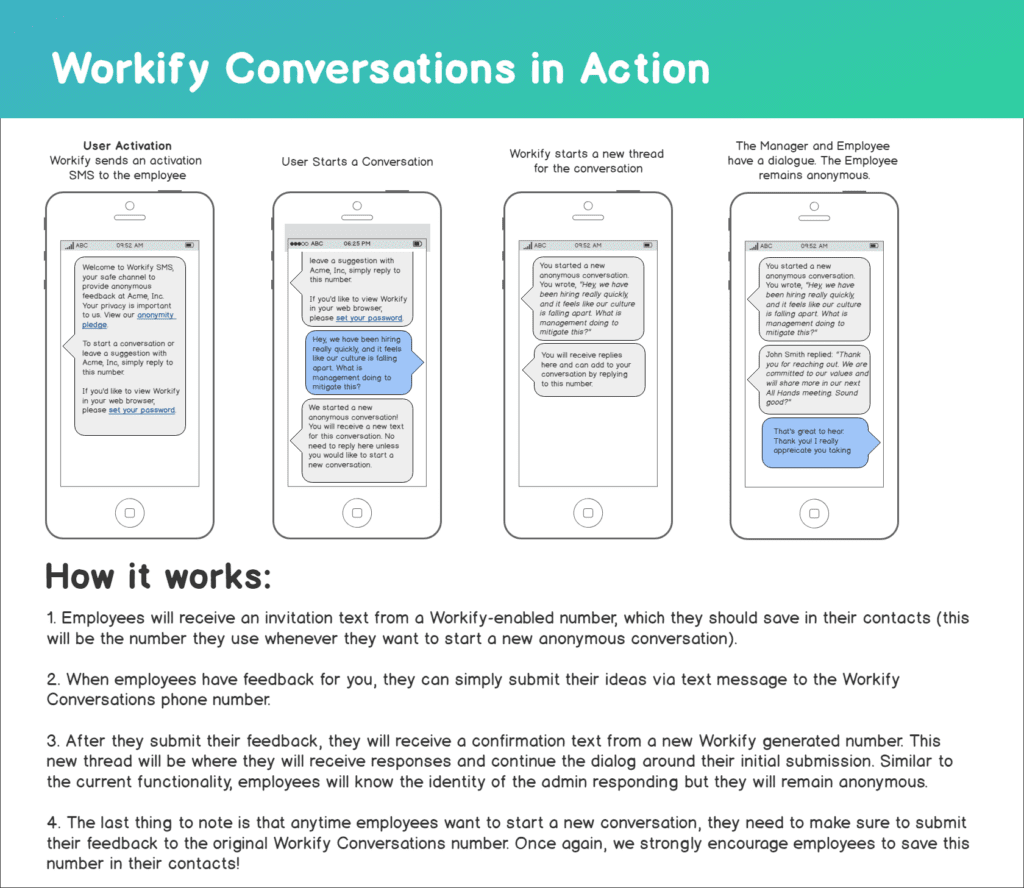 Managing Conversations
As an admin, you will receive an email when a suggestion is submitted. Alternatively, you can access your Conversations inbox by clicking 'CONVERSATIONS' in the top navigation bar.

Conversations allows you to respond to suggestions, tag them with specific categories or assign them to coworkers for action, and mark them as complete.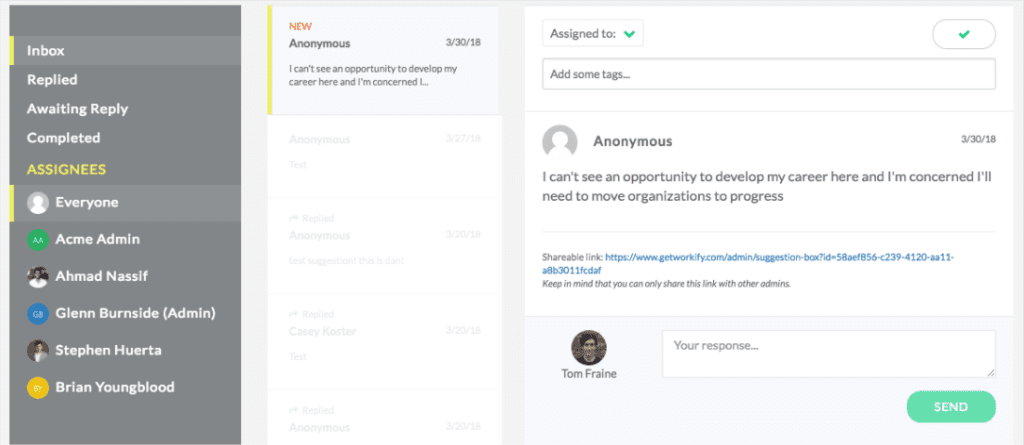 Responding to the suggestion will start a conversation with the user. They will receive an email notification that you have responded, and if they posted anonymously they will remain anonymous throughout the conversation.
Setting Up Conversations
To access Conversations, your team members will need to create an account in Workify. To set this up, you can either reach out to the Workify Client Success team, or send activations yourself from the 'Manage Users' page.
When going live with Conversations, we'd recommend you send a communication to your team to introduce the feature. You can share this direct link to the Conversations in that message.
You can enable an additional feature to associate anonymous suggestions with a single metadata label, for example the user's Department or Location. This will help you identify whether the suggestion comes from a specific group and help you decide how to respond to the feedback.
The tag will be withheld if the user belongs to a group with fewer than five members. Again, please reach out to the Client Success team if you would like to set this up.