Everyone deserves to feel seen and recognized in a meaningful way. When you do that in ways as unique as your people and culture are, you unlock a shared aspiration and an unstoppable team.
The ABCs of Recognition
When you recognize your employees, you are acknowledging the positive Attitudes, Behaviors, and Contributions that make an impact on your organization. Recognition can take many different forms, depending on your culture, your resources, and your recipients.  Most importantly, effective recognition is a sincere expression of appreciation that aligns with the mission, vision, and values that your group shares.
Build a Balanced Recognition Culture Using 3 Tiers of Recognition
You can think of effective employee recognition as a 3-leg stool. Organizations that consistently provide their employees with recognition on each of these three levels are best positioned for a sustainable culture where people can thrive at their best potential.
1. Day-to-day Recognition means appreciating one-another for the daily attitudes that create an environment for success.
2. Informal Recognition is a loosely structured way to acknowledge and reinforce the behaviors that move you toward your shared mission.
3. Formal Recognition includes significant awards for significant contributions. Formal recognition involves symbolic and tangible awards for individuals and groups that achieve the milestones that define your success.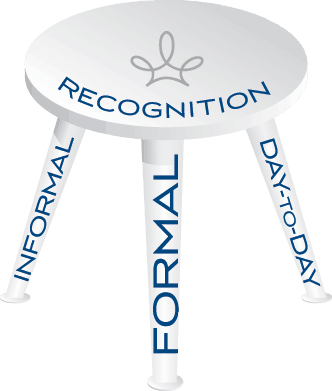 What is an Employee Recognition Program?
Employee recognition programs create a framework so that employees can be recognized consistently and in-line with your organization's goals. Terryberry can help guide you through this process to ensure that your recognition program is successful.
Recognition programs from Terryberry include:
Whether you want to take a small step toward a big vision driven by our flexible, comprehensive recognition platform or a big step toward a complete solution that increases engagement, we'll help you accomplish your goals – together.
Learn more about designing an employee recognition program.
Contact us to get started
What do customers say about Terryberry's employee recognition programs?
"We wanted to do something special for our associates when they reach milestones such as anniversaries. Terryberry helps to personalize the experience because the associate gets to choose a meaningful gift that they will enjoy." – Cheryl Tanenbaum
"Our organization has received great service from Terryberry in their Give a WOW platform. It is a wonderful and easy tool for reacgnition, both from managers, and peer to peer." – Calm Energy
"With larger companies having locations in different cities, this recognition site allows the employees to feel more connected. Recognition and applause is uniting our employees!" –Olivea F