The ABCs
Employee Recognition is acknowledgement for the Attitudes, Behaviors, and Contributions that make your business go. Recognition can take many different forms, depending on your culture, your resources, and your recipients.  Most importantly, effective recognition aligns with the mission, vision, and values that your group shares.
The 3-Leg Stool
We encourage our clients to think of effective employee recognition as a 3-leg stool.  It takes day-to-day recognition, informal recognition and formal recognition – in balance – to build a culture of recognition in the workplace.
Day-to-day Recognition means appreciating one-another for the daily attitudes that create an environment for success.
Informal Recognition is a loosely structured way to acknowledge and reinforce the behaviors that move you toward your shared mission.
Formal Recognition means significant awards for significant contributions. Formal recognition involves symbolic and tangible awards for individuals and groups that achieve the milestones that define your success.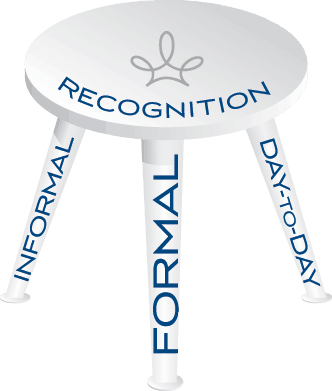 What is an Employee Recognition Program?
An employee recognition program is simply creating a framework that enables employees to be recognized consistently and in line with your goals. This is where Terryberry comes in.  We can help guide you through this process to ensure that your recognition program is designed and executed for success.  We can help at any or all steps along the way.  This is our area of specialty and we promise, we'll make it easy for you! That's our job.
Learn more about designing an employee recognition program.