Between a global pandemic, the Great Resignation, and corporate Burnout on the rise, HR departments everywhere are rethinking their retention strategies. And one thing that's becoming more evident than ever is the link between employee recognition and employee retention.
An easily overlooked aspect in many businesses today, employee recognition has shown to be an important driver behind employee retention. And now there's data to back it up.
Here are employee recognition statistics business leaders should consider in 2022.
Impact of Recognition: Employee Recognition Statistics and Retention
Employee recognition research supports that employee recognition is directly related to employee retention. While we continue to navigate The Great Resignation, a structured employee recognition program could help companies retain their top talent during a time when many are leaving.
47% of Human Resource professionals believed that employee retention and turnover was the top workplace management challenge. (SHRM)
Businesses lose roughly $1 trillion annually due to voluntary turnover. (Gallup)
63% of employees who feel recognized are unlikely to look for a new job. (Curiosity at Work)
Companies with effective recognition programs have 31% lower voluntary turnover. (Forbes)
82% of American professionals feel that they aren't adequately recognized for their contribution. (OGO)
Survey respondents reported an average of 50 days since they last felt recognized in any way at work. (OGO)
Employees promoted after three years have a 70% likelihood of staying with your company. (LinkedIn)
Bottom line: Poor employee retention is costly for companies in many ways. But an effective employee recognition program can have a significant positive impact on employee retention.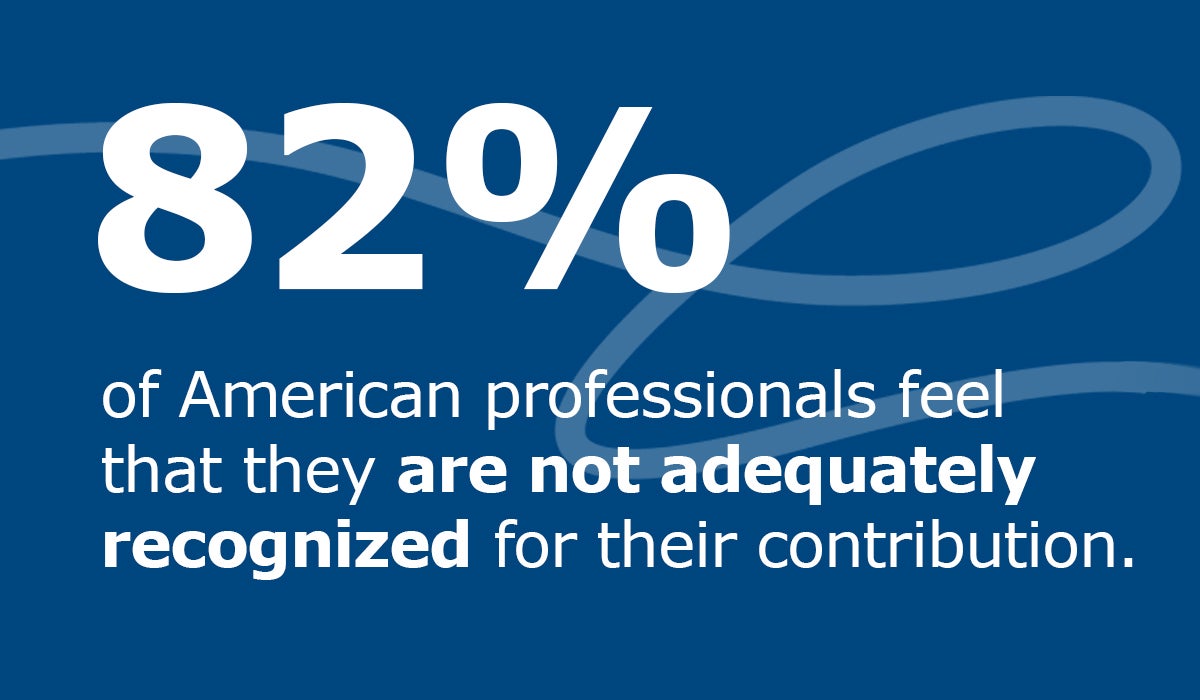 RELATED CONTENT: 5 Ways to Retain Employees During the Great Resignation
Employee Recognition Statistics and Engagement
Sure, employee engagement is nice, but does it really matter? The answer is, absolutely. Companies with higher employee engagement are more resilient and better equipped to endure economic challenges.
Furthermore, higher employee engagement is also linked to increased customer satisfaction. Meaning, engaged employees are truly invaluable to the success of your company.
36% of US employees are engaged in their work, while 15% are actively disengaged. (Gallup)
When employees believe they'll be recognized for their work, they're 2.7 times more likely to be highly engaged. (Quantum Workplace)
Employee engagement, productivity, and customer service are about 14% higher where recognition occurs compared to where it doesn't.
81% of hybrid employees are highly engaged, followed by 78% of remote employees and 72% of on-site employees. (Quantum Workplace)
The single most important driver for employees to do "great work" is employee recognition. (Great Place to Work)
Bottom line: Engaged employees are more likely to stay with their current company, be happier, and do better work. One way to increase employee engagement is to improve employee recognition.
General Employee Recognition Statistics
Other important employee recognition stats include:
Replacing an employee can cost the company one-half to two thirds the employee's salary. (Gallup)
65% of employees haven't received any form of recognition for good work in the last year. (Great Place to Work)
87% of company recognition programs emphasize tenure. (Forbes)
Recognizing employees at least once per week is best for employee recognition. (Gallup)
85% of HR professionals say employee recognition programs positively affect organizational culture. (Mercer)
Getting Started
Providing meaningful recognition is essential for companies to succeed in today's market and employee recognition software is a great place to start.
If you're interested in learning more about Terryberry's employee recognition platform, contact us today to set up a demo. See how our 360 platform incorporates social recognition, performance awards, milestone awards, and barrier-free communication all under one streamlined platform.