An employee recognition program is a great way to engage, reward, and build a lasting relationship with employees. Designing an employee recognition program ensures that your employees feel valued and acknowledged for their contributions. 
Everyone deserves to feel valued, seen, and recognized for their efforts in a meaningful way. No matter how big or small. So, it's time for employers to do more than give high-fives and a pat on the back. 
But what is an employee recognition program? 
Recognition programs create a framework so that employees can be acknowledged consistently for their dedication, hard work, and achievements. Employees are the ones who drive your business. They are the backbone of your company's mission. 
When employees do something well or achieve something great, don't you want to show how valuable they are? 
Who Drives Employee Recognition?
Recognition is a crucial element of great company culture. Proper recognition can drive employee engagement, productivity, talent retention, and overall job satisfaction. It can come from many different people including leadership, management, and colleagues.
It should be inclusive; all recognition is welcome!
Top-Down Recognition
Traditionally, recognition is given in a top-down approach. According to research on employee engagement, over 58% of employees believe that leaders could drive more engagement with employee recognition. This means your C-suite and leadership teams are the ones who drive recognition and instill recognition values.
Often, recognition from upper management has monetary values attached, like raises and promotions. But more and more companies are noticing that different types of recognition help build a well-rounded company culture.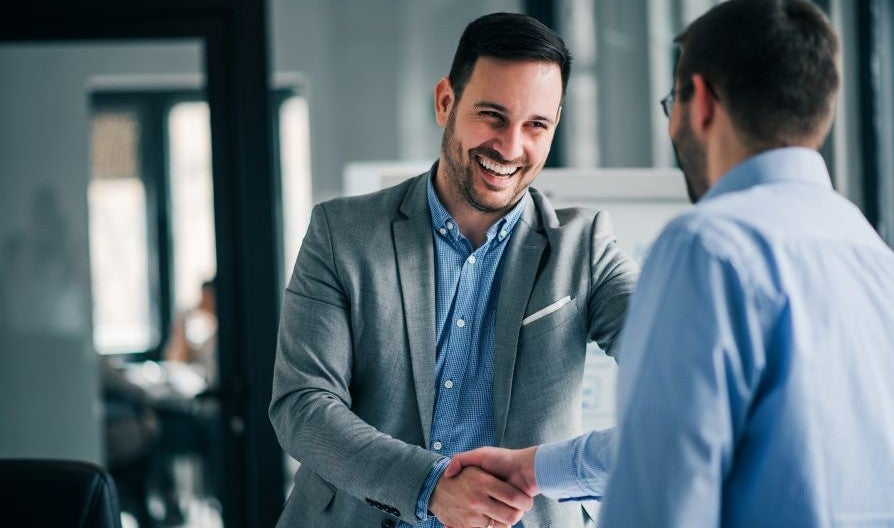 Peer Recognition
In a peer recognition system, managers and coworkers alike are encouraged to recognize each other for their hard work, achievements, milestones, and other contributions. Your peers see you in the trenches, so they know the specific details in which contributions were made. While it's important for managers to be aware of job performance, their peers are the ones who see the immediate impact.
Regardless of position, recognition is an important driving force in employee engagement and company culture. Even for those in a senior position, receiving recognition feels good (all the hard work was worth it).

RELATED: 10 Employee Anniversary Recognition Ideas

Are Employee Recognition Programs Important?
At its core, employee recognition is the acknowledgment and appreciation for your employees' contributions to the organization. Although recognition can take on a variety of forms, implementing the right program will give your company the edge it needs to be successful.
Benefits of an Employee Recognition Program
How are you going to continue to thrive? Employee recognition is more than an investment for your company's bottom line. It's also an investment in your company culture, and more importantly, your people.
By implementing recognition programs, you are making a conscious effort to acknowledge your employee's efforts. In return, employees will feel empowered to build a positive company culture, reach and obtain company goals, and grow professionally.
Create a Collaborative Work Environment
One big, happy family. A lot of companies try to establish a "family" oriented company culture. But how many companies actually maintain a healthy, respectful, and collaborative environment?
Building a culture of appreciation can help to promote collaboration among teams. Employees who feel valued, respected, and recognized by their colleagues are more likely to be team players than those who feel like their contributions don't matter.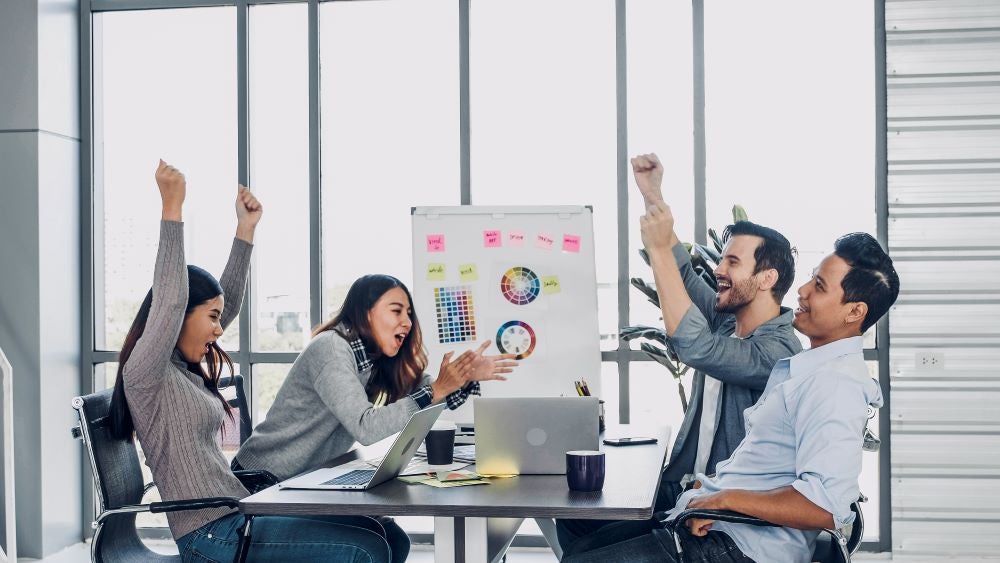 Increased Employee Productivity
There is a clear link between productivity and engagement among employees.
Recognition creates a sense of investment for employees. Without feeling valued, or invested in, employees are less likely to be engaged. Employers who create and sustain a positive workplace will see better productivity and bottom dollar results.
Positive Workplace Culture
Employees spend a lot of time at work, with coworkers, managers, and leadership. The workplace has a huge impact on employees: happiness, satisfaction, growth, well-being, etc. The company culture needs to support your employees in multiple areas of life. When culture aligns with employees' needs and values, those people are more likely to be happy, satisfied, and motivated.
Companies that foster collaboration, personal and professional development, and innovation will not only retain their employees but also recruit amazing talent.
Retention of Top Talent
Employees don't quit companies, they leave managers. Well, it's actually a little bit of both.  In a study with Culture Amp, they found that the percentage of employees that leave an organization is driven by leadership at 28% and a lack of development opportunities at 52%. While the relationship between employees and managers is an important one, leadership relationships and growth matter too.
Companies and leadership alike can retain their employees with a positive work environment that encourages developmental growth as well as establish healthy relationships. And that starts with recognition!
Increased Profitability
When employees are invested in their work, and company, they will most likely work harder. Stay a little late? Sure. Take on additional responsibilities to help coworkers? You bet.
There are endless benefits from an engaged employee. Employee recognition programs can help to increase employee engagement, happiness, and overall satisfaction. Which will significantly increase the profitability of the organization.
Increased Employee Motivation
Do more. Do better.
Engaged employees are more likely to take on more responsibilities, put forth more effort, and perform are higher levels. Recognition can have a major impact on an employee's motivation, happiness, and overall satisfaction. Although happiness and engagement aren't the same things, both happy and engaged employees help achieve company-wide goals.
Types of Employee Recognition Programs 
Recognition comes in many different forms. However, acknowledge your employees by ensuring your recognition program aligns with the mission and culture of your company. There are three main types of recognition:
Day-to-Day Recognition — Daily recognition allows you to appreciate one another every day to create a fun, healthy, and collaborative environment for success.
Informal Recognition — Informal recognition refers to the "anytime" recognition, acknowledging behaviors that help move your company's mission forward.
Formal Recognition — Formal recognition involves symbolic and tangible awards, this helps to celebrate the significant milestones and achievements in a big way.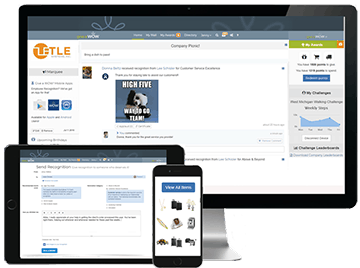 How to Design Your Employee Recognition Program
Finding the right program may seem like a daunting task, but it's quite easy. Rest assured, you can do it! So, how do you do that?
Evaluate
Whether it's surveying, or through your 1:1 meeting, ask your employees how you can better support them, and how they would like to be celebrated. Communication (like with anything) is key.
Take your company's culture into account. Do your employees love gourmet coffee? Do you have a big, family-oriented company? What do your employees value most? What makes them excited? What motivates them? By asking these questions, you'll be better equipped to design and implement a program that best reflects the values and ideals of your employees.
Brainstorm
Figure it out with your most creative people. Use a spreadsheet, draw on a whiteboard, or hash it out over communication tools like Slack. Don't be afraid of any idea, big or small.
Once you've evaluated the needs of your employees and company culture, build a creative team that can help you brainstorm. The more, the merrier. Right? By creating a team of people, you'll have a variety of perspectives that you can consider. You can even use collaborative tools like Trello to keep all your ideas organized, and viewable for others!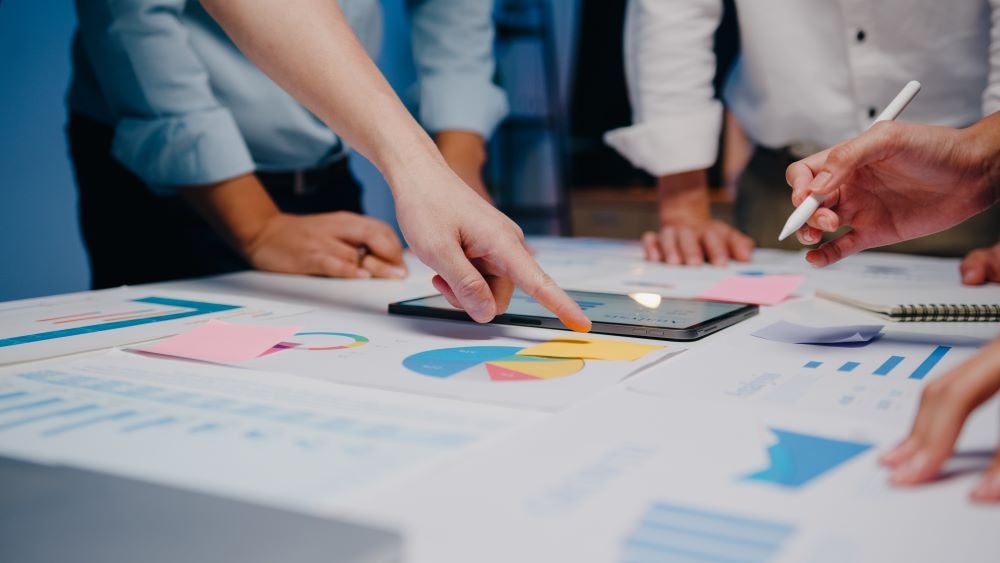 Implement
Put it into action. So, you've evaluated your company, your employees, brainstormed, and now what? Don't stop the train from moving.
Implementing your employee recognition program proves to your employees that there is follow-through within the company. With your program, make ensure that it's being managed and measured by your team throughout the year. This will ensure that your program is thriving and providing a better employee experience.
Employee Recognition Examples
There are many ways in which you can create and implement a recognition program that best suits the needs and wants of your employees.
Monetary Recognition
In the past, employee recognition initiatives were often related to compensation and benefits, primarily monetary rewards like bonuses, gift cards, etc. Today, recognition programs are much more evolved. Additionally, organizations are looking to provide more of an experience for their employees.
This type of program revolves around tangible, monetary awards for employee achievements, milestones, or contributions.
The most common example include:
Bonuses
Commission
Stock options
PTO (paid-time-off)
Tuition reimbursement
Gift cards
Expensed Equipment (company car, laptop, mobile phone, etc.)
Retirement and healthcare plans
Paid development opportunities
Meal expenses
Salary increases
Although competitive pay and perks are always enjoyable, there's more than monetary compensation you can offer employees. In fact, many employees prefer non-cash incentives when it comes to being recognized.
Milestone and Years of Service Programs
Great achievements deserve great rewards.  Your program can be all-inclusive with awards for achievements, years of service, and all other milestones.
Organizations can choose custom recognition awards, offer online redemption gifts, points, experiences, and more. An employee award solution gives you the freedom to be innovative when designing a program. Invest and recognize the employees who've invested their time and talent in moving your business forward.
Peer-to-Peer Recognition Programs
Create a dynamic culture of appreciation through a social media platform that makes recognition simple, fun, and meaningful.  This type of program can be flexible for organizations small and large, and customized for your core values so that each recognition moment reinforces your mission on a daily basis.
Easy to use and simple to manage
Give recognition in real-time
Highlight successes in your business
Reinforce your corporate values
Build a positive workplace culture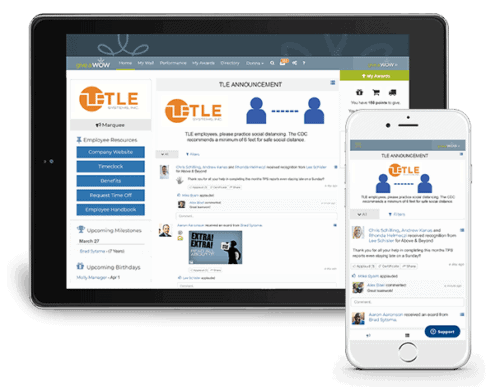 Social Recognition Programs
This type of recognition program can be powerful. It is a cost-effective employee recognition platform that makes it simple for managers to give their employees the recognition they need.
Managers can reward their teams on the spot for great work, review nominations from peers, and access powerful reports to spot rising stars and identify mentoring opportunities. Use recognition awards and points-based recognition to empower your managers to lead by example.
Connect recognition to your team's business and values.
Give employees on the spot recognition and reward points for great work.
Review reward and recognition nominations from peers.
Employee Recognition Tools
Stay Organized with a Calendar
Whether you are gathering ideas on how to implement a recognition program, or you are looking to add something fresh to your current program, developing a recognition calendar is a great place to start or supplement with new ideas.
Terryberry offers a calendar for your use! Make sure to download the full annual calendar to print and reference holidays throughout the year. Exclusive to the downloadable calendar, you will get additional recognition ideas, tips, and challenges to participate in all year long.
Are you researching or in need of an employee recognition program? Check out our 360 Recognition Platform. It is your hub for everything you need to design and develop an excellent employee recognition culture within your organization.