Every day, Terryberry is investing in the people, technology, and tools to help us deliver the best employee recognition solutions available today for our clients.
Today, we're excited to announce new print solutions that make it possible for Terryberry to provide high-quality award catalogs on demand.  Now more than ever, award recipients can always find the most up-to-the-moment product selection.
Because Terryberry strives to keep award selections fresh with the newest and best items available, this means that electronics and other items are continually being updated with newer models and new selections.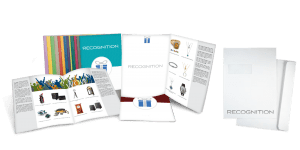 Terryberry's online catalogs are refreshed nearly instantaneously when an item is replaced.  But in the past, when award recipients were making selections from a printed catalog, it was a challenge to ensure that they are always choosing from the most up-to-date items.
In the old days, when an award from our Recognition Collection catalog was retired and replaced with a new selection, Terryberry's graphic designers would update the catalog layout with the new product and send the file off to our external print vendor.  Recognition Collection catalogs were printed in bulk, shipped to Terryberry or one of our field offices around North America, and warehoused to have available for award recipients.
Terryberry recently invested in high-end digital press equipment that allows us to bring this process fully in-house.  We can reduce the time to provide updated award catalogs from months or weeks to within days…while still providing the signature Terryberry quality presentation piece that our customers expect and appreciate.
Now, we can print award catalogs on demand for each customer.  If a customer requests Recognition Collection catalogs today, we print the catalogs on demand using the very latest award selection, and it is in the client's hands within days. This eliminates obsolete catalogs, reduces waste, and provides a better customer experience.