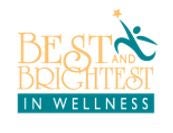 Terryberry  has received top honors as one of "Michigan's 2016 Best and Brightest in Wellness" for programs and efforts aimed at bolstering the health and wellness of its employees.  Read the news release.
Terryberry's employee wellness programs have had a strong impact on a number of employees battling high-blood pressure, high cholesterol and other health challenges. In fact, one of Terryberry's employees in North Carolina recently dropped approximately 75 pounds since joining the company's employee-led wellness committee in May.
Among the company's many efforts to bolster wellness throughout Terryberry:
Offering Fitbits company-wide at a discounted rate and developing their own Fitbit Community.
Monthly health challenges, such as drinking additional water, eating more vegetables, etc. Employees are rewarded points through Terryberry's own 360 Recognition platform.
"Walking Wednesdays" in which Terryberry's global employees log steps together.
"It's about building a culture of wellness that transcends to all aspects of an individual's personal and professional life," said Mike Byam, fourth-generation managing partner of Terryberry. "We're honored to be recognized and will continue to make inroads in this important area of our company. It feels good to receive recognition."
Being a provider of employee recognition awards and programs, Terryberry appreciates the value of recognition. Terryberry designs and implements programs for organizations worldwide, helping leaders to recognize and reward their employees for the positive attitudes, behaviors and contributions that drive businesses forward.  Among Terryberry's solutions for employee recognition is a line of wellness-themed awards, designed to support organizations in their efforts to communicate and encourage healthy behaviors among their staff.