Hundreds of employee engagement stats come out after the new year but these numbers usually tell the same story. Employees feel that they don't get enough recognition from management. In contrast, managers say they already give a lot of praise and don't have time to give more. Unfortunately, this is where the conversation usually ends. Here is a new number to think about this year when it comes to recognition on a social platform: 5.32.
532% More Recognition Moments Thanks to the Social Platform
Terryberry mined the employee usage data from our 360 Recognition clients and calculated exactly how impactful these programs can be. Determined by our data, each recognition moment is multiplied by (on average) a factor of 5.32. In other words, any single recognition moment is amplified by 5.32 unique reactions as a result of applauds and comments by co-workers.
Not only does this impact the recipient of the recognition, but the social visibility in 360 Recognition means that each of those recognition moments reinforces the core values of our organization for everyone on the platform.
Get a Better Picture of Your Team's Strengths
Managers might not be around to witness each and every employee's achievement. Often fellow employees are the ones who experience their peers' contributions first-hand. They might notice a situation when a co-worker stepped in to help in the eleventh hour. Or, they might know an employee who takes on extra tasks frequently and without complaining. By giving peers a voice to praise coworkers' accomplishments, managers often gain better visibility into the strengths of individuals and their team as a whole.
Use a Social Platform to Increase Recognition Program Participation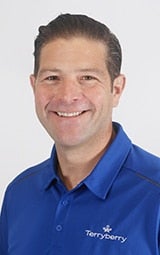 So let's take this a bit further: If an organization without a employee recognition software collects 150 nominations, that's pretty much where the recognition cycle ends. However, if an interactive, mobile-enabled platform is in place those 150 recognition moments are increased to almost 800, thanks to the 5.32 accelerator. Achieve this without any additional manager involvement!
If your C-suite is looking for hard numbers to support investing in a platform like this, contact your Terryberry representative or check out some of our resources and whitepapers online.
Alex Allion is the Western VP of Sales for Terryberry. Alex brings nearly 25 years of experience in sales leadership and the employee rewards and recognition industry.