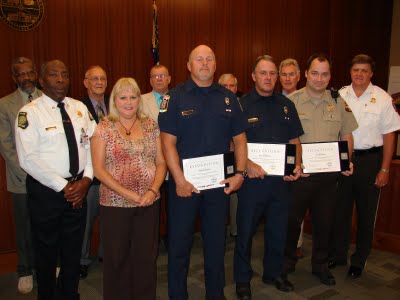 Terryberry is priviledged to have been involved in a ceremony in Troup County, Georgia on August 16th honoring three public service officers who exemplified heroic efforts, saving the lives of two citizens.
On June 29, 2011 Deputy Sherriff David Pasley jumped into a lake after a distraught woman jumped off of a boat dock in a possible suicide attempt. Deputy Pasley has very little swimming skills of his own, but acted selfless in a moment of need and was able to save the woman from drowning without even thinking twice.
On July 29, 2011 EMT Kevin Hendrix and Firefighter Rick Smith arrived at a boat access point on West Point Lake to find an elderly man clinging to the door of his sinking pick-up truck with trailer and boat attached. The elderly man and his truck had been submerged in the lake for close to an hour and a half after the truck's engine shut off and the vehicle rolled into the water. The brave EMT and Firefighter immediately swam out to the victim and swam him 30 feet back to the shore.
One of the many ways that the Troup County chose to honor the three servicemen was by presenting them with Terryberry Honor Kits featuring a lapel pin. It is an honor to have been chosen to provide recognition to these men for their selfless acts of duty.
Special thanks to Dave Maurer, Lou Ann O'Brien, Roni Mason, Greg Butterfield, and all of the Terryberry "hands" that had a part in this very special award presentation.
About Terryberry
Terryberry serves more than 25,000 clients throughout North America, Europe and Australia. Family-owned for four generations, Terryberry specializes in employee appreciation and employee recognition gifts, products and services to keep employees engaged and motivated and companies growing in positive directions. For more information, please visit https://www.terryberry.com.