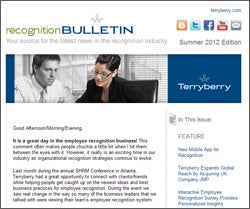 Get up to speed on the latest trends, products, and best practices in employee recognition from Terryberry in the spring issue of the Recognition Bulletin.  Here's what's inside:
Case Study: NSF International's Global Recognition Success
"Becoming More" at SHRM 2013 in Chicago!
We Speak "Recognition" – in 70 Languages!
Customers Can Give a WOW, Too!