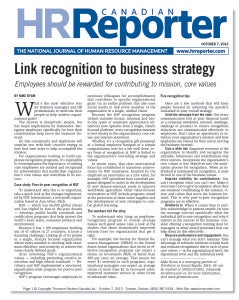 How should business leaders and HR professionals effectively motivate their employees to contribute to their organization's goals?
According to Terryberry's Managing Partner, Mike Byam featured in this October's issue of Canadian HR Reporter, the answer is fairly simple, recognize employees specifically for how their contributions help move the business forward.
Whether it's a recognition award presented at a formal employee banquet or a simple handwritten note for a job well done, create a culture where individuals in your business feel personally capable of contributing to the mission, and valued for the role that they in its success.
Your employee recognition initiative is a natural place for making this connection between people and mission.  Here are five recognition tips that Byam outlines that can help:
Send the message from the start: Use every communication tool at your disposal (such as a company newsletter, intranet, meetings, mailings or posters) to ensure recognition objectives are communicated effectively to employees. Don't miss an opportunity to reinforce your organization's mission and how employees are valued for their role in moving the business forward.
Cast a wide net: Empower everyone at the organization to identify and recognize the attitudes, behaviors and contributions that drive success. Incorporate the organization's core values or key objectives into the nomination process for recognition. When an individual is nominated for recognition, it must be tied to one of the business values.
Improve visibility for contributions: You can't recognize what you can't see. Make it everyone's job to give recognition when they see someone contributing to the mission, vision and values that move the business forward. This is why peer-to-peer recognition programs are so effective.
Reinforce it: When it comes time to publicly acknowledge or present awards, be sure the message conveys specifically what the individual did to earn recognition and why it matters to the success of the business. Consider offering a recognition training class for managers or other award presenters that can help them do this effectively.
Measure performance and engagement: You can't manage what you don't measure. Take advantage of software solutions to help track and evaluate recognitions tied to each of your core values — at the organizational level, the department level and the individual level.
Inspired to design their recognition program based on their core values, NSF International, a non-profit organization base in Ann Arbor, Michigan, worked with Terryberry to implement a social-media style peer recognition program that reinforced their mission, vision and values of their organization on a daily basis, while increasing participation from their employees across the globe. Learn more about this NSF International's case study and how other organizations have achieved measurable success with strategic employee recognition solutions.
Create a dynamic culture of recognition. Scalable for businesses small and large, only Give a WOW is customized to reinforce your organization's unique mission, vision, & values. Fuel passion and potential in your organization— Try Give a WOW Today!