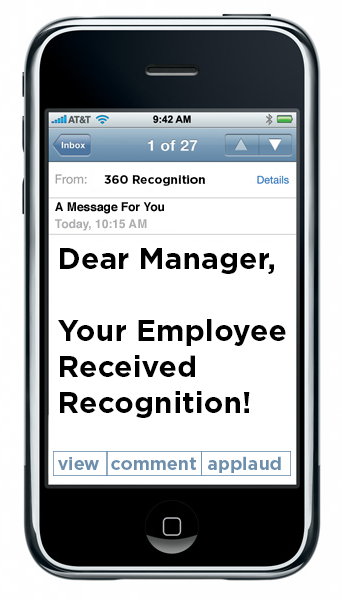 Surveys consistently indicate that a top challenge with employee recognition programs is getting adequate participation and involvement from managers.
Terryberry today released a new feature in the 360 Recognition Platform designed to help make recognizing employee contributions simpler and more consistent for busy managers.
"Managers in most organizations have a lot on their plate," says Terryberry's CEO Mike Byam.  "The Manager Notifications tool in the 360 Recognition platform reduces roadblocks to recognition, and helps make the process easier.  The result is that employees get more of the recognition they need to be at their best every day."
The new Manager Notifications feature informs team leaders regarding the recognition received by the employees that report directly to them.  Recognition is more visible and accessible to supervisors, making manager-to-employee recognition easier and more effective.
When an employee receives recognition, the direct manager can receive an email alerting them that one of their employees has been recognized. This prompts an action for the manager to comment or applaud. 
If an employee is approved for an award, another email can be sent letting a manager know that their employee has been awarded. Managers will be able to opt in or out of the notifications through the notifications section of their profile page.
The Manager Notifications feature is another in Terryberry's continued growth and development of the 360 Recognition Platform which is designed as a central hub for employee recognition in an organization, and includes modules for service awards, performance points recognition, peer-to-peer recognition, and the new Award Your Team module for manager -to-employee recognition.
Want to learn more?  Request a demo.