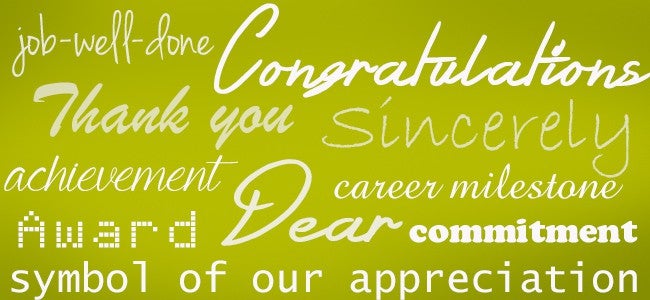 Employee Recognition letters are a low-cost and effective management tool, but often under-utilized.  When an employee receives a sincere, personal letter of appreciation, it can have a profound effect on their motivation, sense of purpose and happiness at work.   And it costs nothing except your time…well ok, also the paper and pen.
Employee recognition letters cost next to nothing, and they mean a lot.  Why not write more of them? Here are the top excuses for not writing employee recognition letters.  In this post, we'll give some tips to help overcome them.
Top 2 Excuses for Not Writing Employee Recognition Letters
I'm too busy to write a letter of appreciation
I don't know how to write a good appreciation letter
They're bad excuses. And here's why.  
If you are too busy to write a recognition letter, you might be too busy manage a team.  Recognizing your staff for great work is the most important and effective way you can communicate your expectations and encourage your team to strive to meet them.  People who feel appreciated want to do a good job, and will work harder to contribute. What manager wouldn't benefit from that?
Set aside 30 minutes a week specifically for appreciation.  Make it a goal to write at least one letter or note of appreciation each week.
Don't know how to write a letter of recognition? Today's your lucky day. In this post we'll show you exactly how to write a letter that will be meaningful to your employee. More on that later.
Use the "What-Why-How" method for recognition letters
What did you see him or her do that deserves the recognition?
Why was what you saw important for the company, department or group?
How did the individual's action help the organization get better?
A letter of recognition or appreciation doesn't have to go on for days or be written in poetic prose.  A few sincere words will make a big difference in someone's day and possibly even for years to come.  Check out sample appreciation letters here.