How can organizations provide remote employees with meaningful recognition for their efforts? In this post, Terryberry shares ideas for how to adapt employee recognition programs to a newly remote workforce.
Remote Work is Here to Stay
Today, many employees are newly working from home or in socially distant work environments. COVID has brought about a dramatic increase in the number of people working remotely virtually overnight, and analysts predict that remote work will continue to play a larger role in businesses after the pandemic has ended.  According to Gartner, 74% of companies plan to permanently incorporate more remote work after the pandemic. Now, many organizations are looking to implement infrastructure to help them effectively connect with these off-site employees.
Social Recognition for Remote Workers
There's a wealth of research that points to the importance of social interaction in the workplace. Positive relationships with coworkers are an important part of a productive and fulfilling work experience, and they influence employee satisfaction and engagement. In remote work environments, social interactions with coworkers are not likely to happen by accident. Organizations need to be more intentional about providing infrastructure and opportunities for peer-to-peer connections.
Terryberry advises businesses with remote employees to implement a social recognition platform to create visibility and enable connection among coworkers.  Programs like Give a WOW, Terryberry's social recognition platform, have a company directory and a social feed where employees can give and receive recognition for great work. Coworkers can also share ecards and post photos or videos for occasions like birthdays or work anniversaries.  These interactions connect remote employees with a sense of belonging and participation in the workplace culture.
Recognizing Significant Achievements Remotely
Wondering how to provide a socially distant recognition experience for major accomplishments like top achievements or significant work anniversaries?  In light of social distancing, many organizations have had to find alternatives to traditional recognition events.
Terryberry has helped clients adapt remote recognition experiences for service awards and top performer awards.  Some ideas include: providing award recipients with an online recognition experience that can include a personalized congratulatory message, online award selection, and an opportunity for colleagues to share comments and applaud the achievement.
Recognition Videos
Personalized recognition videos can be a meaningful way to commemorate important milestones or achievements, especially when face-to-face celebrations aren't possible.  Terryberry's employee recognition software uses technology to collect relevant comments, photos and accolades that have been posted on the platform. These are automatically compiled by the software to create a custom videos on-the-fly for individual milestone work anniversaries.
Don't have access to a software platform? With a little creativity, you can create personalized recognition videos yourself.  Collect photos and notes to create a slideshow; or encourage peers and supervisors to send selfie videos sharing what they appreciate about the recipient.  These personalized touches will go a long way toward making the moment special for an individual.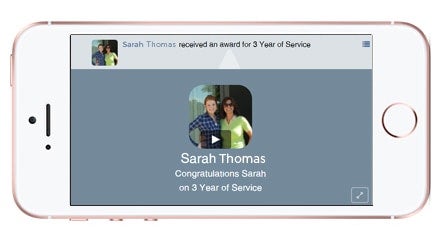 Maintaining Momentum in Recognition Programs During Social Distancing
As businesses settle into the new normal, infrastructure and systems will be re-evaluated and adapted to the new workplace.  Terryberry can help you with tools to maintain consistency and momentum in your employee recognition programs for remote workers. Please feel free to connect with Terryberry when you need a hand.
Check out the webinar "Out of Sight, But Not Out of Mind: Recognition for Remote Workers to learn how to keep offsite workers from feeling invisible and get real solutions for providing remote workers with a sense of community and recognition for accomplishments.