Remember Flat Stanley?
Well, if you were even semi-conscious during the mid-90s, the name probably rings a bell.
Flat Stanley was a fictional character, originally created by Jeff Brown as the star of a children's book series that received decent popularity during the 1960s, 70s and 80s.
Most of us, however, don't remember the children's books. No, we recall Flat Stanley in photographs next to Niagara Falls, the Eiffel Tower and the Great Pyramids of Giza.
In other words, we remember the Flat Stanley Project.
During the 1990s, the Flat Stanley Project was started by Dale Hubert, a third-grade schoolteacher in Ontario, Canada, who wanted to create a fun and engaging way for his students to write, share and exchange letters and experiences.
Participants – initially students and teachers – created Flat Stanley cutouts out of plain stationery paper. A journal accompanied the characters. People shared their experiences in the journal, describing their daily happenings, with Flat Stanley at their side. Pictures were taken of Flat Stanley in the settings. And ultimately, Flat Stanley would be mailed to the next eager participant, ready to embark on his next new adventure.
RELATED: What is Employee Engagement?
As you probably recall, the Flat Stanley Project was a huge hit. In today's terms, we'd say it went viral. It was a worldwide phenomenon, gathering participation from around the world.
Since its heyday, The Flat Stanley Project has influenced countless like-minded initiatives among families, companies, friends, organizations, and numerous cultures in-between.
First Federal Financial Institution, is just one such organization that decided to try out the Flat Stanley formula. They created their own character named Fast Freddie. Only instead of being made out of paper, Freddie came in the form of a stress relieving foam figure.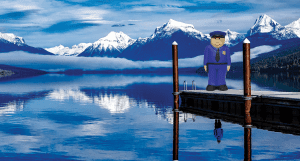 Federal even took the concept a step further. They offered prizes, awards and recognition based on a variety of fun and engaging achievements.
For example, the award name  "Son of a Beach Award" recognized the person who best exemplified a beach-filled vacation. The "Turn Back the Odometer Award" accredited the individual who road tripped from coast to coast.
Fast Freddie was unanimously loved by the members of First Federal. It brought the company together, creating a friendly competition and a welcoming sense of fellowship – both inside and outside of the workplace. A rare feat, indeed.
What can your company do to install fun and culture? Have a look at these 35 recognition ideas to get you started.