So, what is employee engagement? Well, it's not "just an HR thing."
Employee engagement refers to the commitment, involvement, and enthusiasm employees have toward their work and workplace. It's more than just numbers, and bottom lines. It's about the personal connection employees feel with their job, colleagues, and the organization.
While employees may be satisfied with their work, how involved are they? By implementing engagement strategies, organizations could measure and manage the success of company culture.
Company culture should be engaging, inclusive, and forward-thinking. It is often what keeps employees satisfied with their work and workplace over time. This is why it's important for leadership, management, and employee to understand the implication of employee engagement.
Remember, it is a long-term connection to the organization.
Why is Employee Engagement Important?
The key to success? Organizations that are value-driven with employee-centric cultures. Employee engagement is more than fancy desks, company game rooms, events, and wildly awesome perks like the ones we hear about from Google.
The decisions and actions made by employees affect the workplace more than you realize. Engaged employees generally help to produce better business outcomes.
Companies with engaged employees will simply outperform their competitors due to the dedication and productivity of their employees.
The proof is in the pudding.
Based on the research from Harvard Business Review, over 92% of company executives believe that engaged employees perform better. There is something to be said about engaged employees increasing business.
In their survey, 56% of respondents believed their organization saw positive ROI from its investment in employee engagement strategies and tactics.
Types of Engaged Employees
Here are the types of employees to look for when measuring and managing the success of staff engagement.
The Cheerleader - High Engaged
These individuals are extensively involved in their work and workplace. Moreover, they are enthusiastic about it too. These employees feel very emotionally connected in a positive way.
Typically, these are the employees who are innovative, self-starters, and drive performance. They go the extra mile.
They are champions of the organization and will most likely be advocates for recruitment.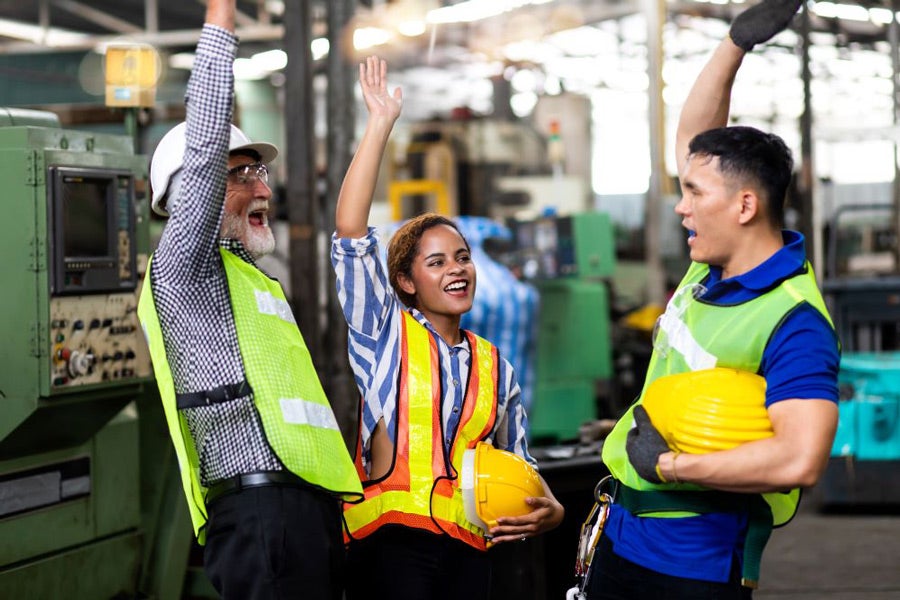 The Coaster - Moderately Engaged
Employees who feel moderately engaged, but can still possess positive feelings. However, they are less likely to go above and beyond or ask for additional responsibilities. Or, you can identify them as being complacent individuals.
These individuals are unattached to their work and company. Although they put in the time, there's no sense of passion or energy.
They as flight risks, possibly searching for other jobs, and present as an opportunity to convert into a cheerleader.
The Naysayer - Actively Disengaged
Everyone has at least one. Typically, these employees have a negative perspective of their work, and/or workplace. Their choice to stay varies, but overall they present as a negative flight risk.
Disengaged employees are very emotionally disconnected from the organization's mission, goals, and can foster some type of resentment.
They represent an area of improvement for the organization, so don't write them off yet!
What and Who Drives Employee Engagement?
It's about the emotional connection.
We can separate the different elements of employee engagement into two primary categories: engagement with the organization and engagement with people.
One category relates to how employees connect with the organization while the other deals with how employees interact with people (specifically management).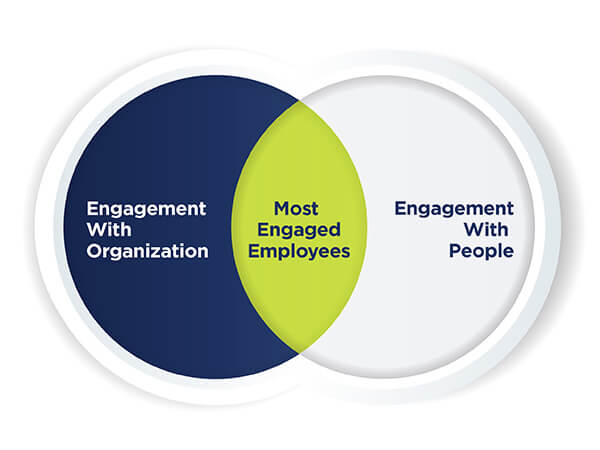 Engagement with the Organization
In today's workplace, employees want to feel a sense of purpose while finding something meaningful in their position. Employees require more than a good salary and a fun workplace, despite that being a contributing factor in employees' happiness and satisfaction.
The organization engagement can be described as how employees feel about their organization as a whole, as well as leadership exemplified from senior executives, the company's mission, goals, and direction.
Do your employees understand the organization's mission and business direction? Do you have a company culture that supports professional development?
This is what drives engaged employees.
Engagement with People
But it's about more than just finding purpose and meaning in their work. People need people. More importantly, people need adaptive managers who truly inspire and can mentor employees to achieve their goals and reach their full potential.
Relational engagement is just as important of a driving factor. This element relates to how employees feel about their direct supervisors and colleagues. It's vitally important for employees to feel valued by their managers while receiving positive feedback and direction.
Do your employees have healthy working relationships with their managers? Do your managers lead with respect and empathy?
This is who drives engaged employees.
Other key drivers of employee engagement:
Purpose
Professional Development
Collaborative and Friendly Environment
Positive Reinforcement
How Do You Measure Engaged Employees?
Most likely, it will start with a survey. Sending out an engagement survey will ensure that you are accumulating data straight from the source. Surveys provide organizations with great insights into the health of an organization, which includes how employees feel about the company and its direction.
Types of Employee Surveys
Employee Engagement Survey – Includes questions that specifically targets and are scientifically proven to measure employee engagement.
Pulse Survey – Occurs during transition periods like mergers and acquisitions when company direction changes.
Employee Lifecycle Survey – Collecting feedback at milestone moments with new hire surveys, stay surveys, and exit surveys.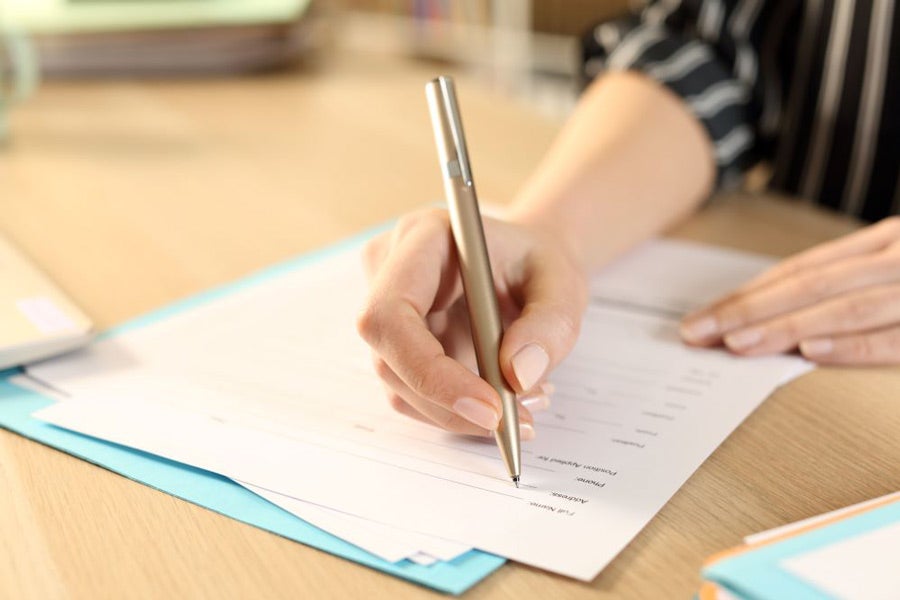 Measurement Strategy
Before you send out a survey, you must decide what you want to achieve with it. What is the point?  What will we do with the results? Who will take action? In order to have a solid foundation, you should measure in multiple ways.
Across the Organization—This is your baseline. However big or small your company is, this will give you multiple perspectives where you can identify strengths and weaknesses.
Across Teams and Department—Once you have data on the whole company, identify the areas of interest across groups, teams, and demographics to dig deeper into how teams are supported. You can use employee focus groups as a tactic.
Among Individuals—To do this, schedule 1:1 meetings, provide feedback, and employee recognition to understand engagement on a personal level (this will help eliminate those few active disengaged employees). Managers and mentors are paramount in this effort.
Once you know if your employees are engaged or not, you can take strategic actions to help improve engagement as well as overall company health.
Additionally, you can provide open feedback opportunities on your survey. This allows employees to voice their concerns or identify examples of problems. This will help you develop strategies that will have more of an impact.
Remember, your employee engagement survey will identify "actively disengaged" employees and multiple areas for improvement. Do not panic. Even the best companies with high levels of engagement also have at-risk demographic groups within their company.
RELATED CONTENT: Employee Engagement and Retention - Are They Connected?
What is Your Employee Engagement Strategy?
Your engagement strategy will be crucial to improving your overall company engagement. And it requires commitment. So, you're ready to increase engagement among your employees.
Now what?
First, you must create your goals and objectives, then identify key drivers, send out surveys, and then create an action plan. Your action plan for engagement is vital. This is also where the stars start to align!
Here are five steps to include in your plan:
Review Survey Results—Take your time. Make sure you really dig deep into the results. Look for strengths, weaknesses, areas for improvement, themes, patterns, etc. Ask your managers to also review results! Be inclusive.
Focus—There will be a lot of data. With your engagement team, decide on a few areas to focus on. You should prioritize these areas based on your identified drivers and the effort needed to change.
Get Creative—Be data-driven but don't be afraid to have fun with brainstorming solutions. This is where you can go big, go small, or maybe something in-between.
Stay Committed—Delegate commitments, establish timelines, and lay out measure (and obtainable) goals. This will ensure the action plan doesn't crumble under pressure.
Collaborate and Communicate—Surveys are complete, an action plan is developed, and now it's time to implement tactics! But the work doesn't stop there, make sure to follow up with your teams. Discuss progress to ensure you're making a positive impact.
Benefits of Implementing Engagement Strategies
It's clear the benefits of employee engagement are astronomical. In research analyzed by Gallup, they found the following business outcomes when implementing employee engagement tactics:
81% decrease in absenteeism
18% increase in productivity (sales)
23% increase in profitability
43% decrease in turnover for low turnover organizations
And that's just the tip of the benefits iceberg!
Increased Employee Productivity
When employees are engaged, there is a 17% increase in their productivity compared to their peers. They are more likely to work harder and take on more responsibility.
Higher Employee Retention
Do you think an engaged employee will want to change organizations? Probably not. Engaged employees will feel the effects of your efforts:
They will feel recognized and valued for their contributions
They will be able to grow professionally with career development
They will feel connected to the direction and mission of the organization
Better Employee Health
Happy and engaged employees are healthy employees! Engaged employees are less likely to suffer from chronic diseases, and more likely to exercise and eat healthier. You can implement a few strategies like a wellness program to encourage employees to (not only engage) but be healthy!
Best Practices for Engaged Employees
Surveys are a great tool to use to gain feedback and data. But, it's important to do more than just send out surveys. Let's have an all-encompassing engagement strategy, which means utilizing best practices.
Here are a few best practices you can easily incorporate into your engagement strategy!
It's a Strategy, Not an Activity
If you really want to see improvement in engagement, then it must be a continuous effort. You can't just do it once then never again, or worse, be inconsistent with it. Employees won't feel valued or supported. And managers will brush it off.
So, plan it out, prioritize engagement and be consistent throughout the year. You'll see that needle move!
Motivate and Inspire Leaders
Engagement is a two-way street. If leadership is prioritizing engagement from the top-down, employees will feel more aligned with the organization's mission. This helps to create a trusting and loyal atmosphere. And your managers are your first line of defense so to speak.
Managers (the good ones) are the ones building relationships and impacting company culture.
Their buy-in is especially important.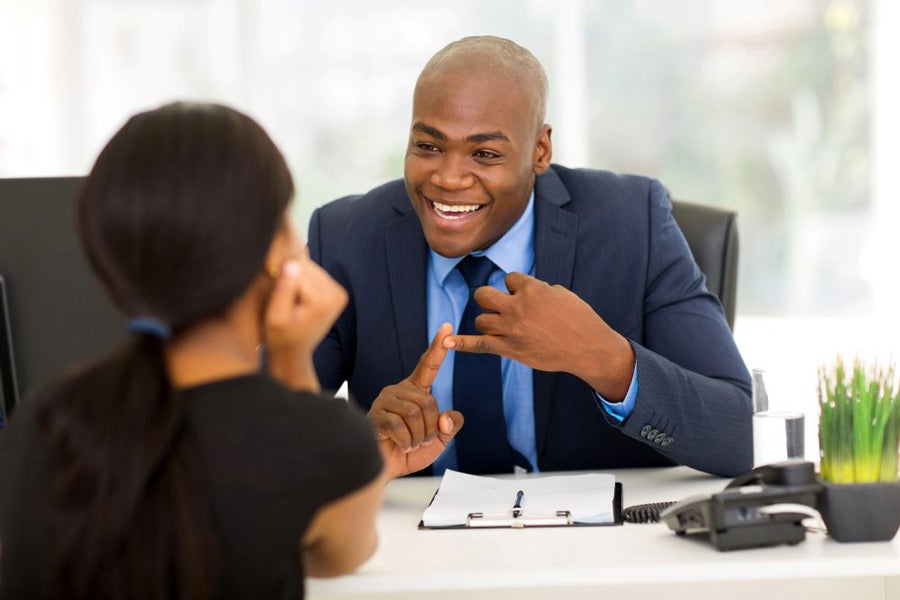 Create a Positive Feedback Culture
Whether it's a survey or a one-on-one meeting, you have to listen to your employees. If you truly want to understand their engagement, ask your employees what they need, what they want, etc.
If you never ask, you'll never know. Plus, you'll be creating a healthy line of communication that fosters honesty and trust which will help create an emotional bond.
Implement Recognition Programs
One of the best ways to improve company-wide engagement is to recognize the achievements, milestones, and wins for your employees. Their contribution to the organization is important, you should show them. Showing is always better than telling, right?
Each year, we are seeing a significant increase in the implementation of a recognition program from milestones to social recognition. Displaying appreciation for their hard work will in turn make them feel valued.
What is Employee Engagement vs. Employee Experience
People often confuse employee engagement with similar human resource concepts such as happiness and overall satisfaction which are factors in the employee experience.
But, is there a difference between employee engagement and employee experience? Well, kind of.
There's not actually a difference between engagement and experience. It's more like a distinction within the employee life cycle.
Staff engagement directly influences the employee experience. However, employee engagement and those concepts (happiness and satisfaction) are different. Despite their differences, company culture, engagement, satisfaction, happiness, and well-being all play a role in the employee experience.
Employee Happiness
It is a short-term, rapidly changing measurement that can depend on various (often uncontrollable) factors.
Happiness within the workplace is often due to the fun perks that companies may offer like an employee gym, game rooms, and gourmet coffee. While perks are seemingly beneficial to the morale and happiness of a workplace, that doesn't mean they are fully engaged with their jobs or company.
Employee Satisfaction
Employee satisfaction is a relative term.
What is satisfactory to one employee may not be the case for another. For example, a satisfied employee could easily be content with working from 9-to-5. Solely satisfied (but not engaged) employees often coast through their responsibilities, performing the bare minimum.
However, engaged employees are people who go above and beyond their typical job duties, work productively and establish an emotional commitment to the organization. Engaged employees are loyal, which results in less turnover and better employee retention rates.
Engagement indicates an emotional connection and participation, while satisfaction and happiness are relatives and fleeting. Both happiness and satisfaction cannot measure how invested employees are in the company.
Employee Engagement Ideas
Building your employee engagement takes time. Here are a few ideas to get your brainstorm cells up and running!
Create an Extraordinary Onboarding Experience
Engage employees from day one. We suggest sending a "Welcome to the Team" box to new hires. This box could include some company-branded swag like a coffee mug, stationery, stickers, pens, headphones, water bottles, etc.
Make it unique to the industry of your company, personalized just for them, or keep it casual with staples that represent your company culture.
Don't forget to include first-day instructions, contacts, and company information (dress code, what to bring, etc.). This can be done for everyone, regardless of location.
Leadership, managers and employees should:
Help new hires feel welcome & comfortable
Help employees access resources
Communication expectations early
Introduce new employees to others
Get digital! Invest in a platform where employees can give and receive recognition for great work in real-time. Create a dynamic culture of appreciation through a social media platform that makes recognition inclusive, simple, fun, and meaningful.
Platforms like Terryberry's Peer-to-Peer Recognition Program, Give a WOW is flexible for organizations small and large. And it's completely customized for your core values so that each recognition moment reinforces your mission on a daily basis.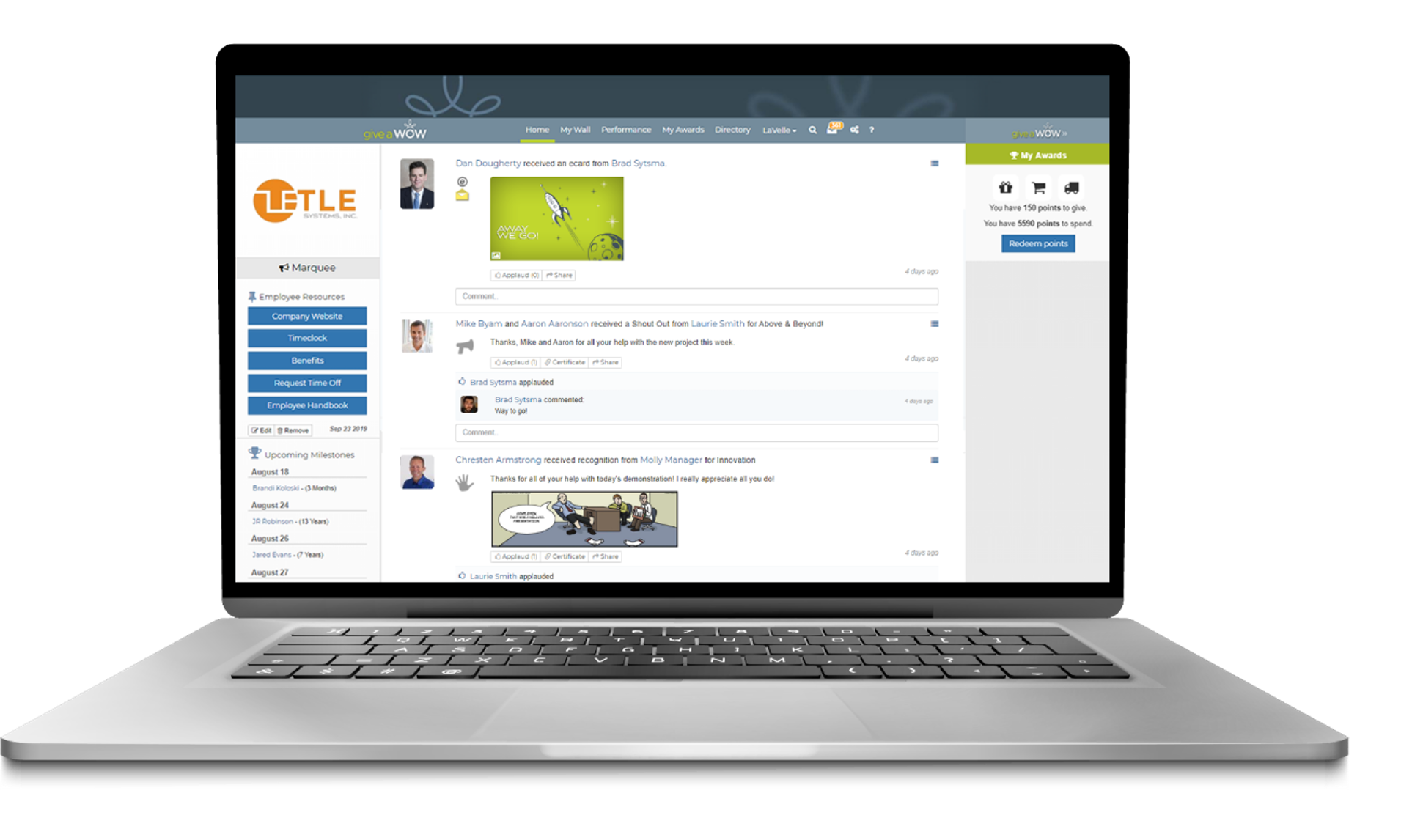 Launch a Lunch & Learn
Hosted by employees, this helps to build a company culture that encourages education and continuous learning! This type of engagement tactic allows for employees to learn something new and recognize employees' expertise.
Think of it as a skill share session!
Instead of inviting outside speakers each month, ask employees to sign-up to host a lunch-and-learn on a subject they are passionate about! Topics can vary from travel expeditions, to finance to professional development.
Don't forget the lunch part! You can have these lunch-and-learns catered by a local restaurant, reimburse team members so they can grab their favorite, or employees can bring their own. The point of the lunch-and-learn is to be engaging, inclusive and inspiring.
Employee engagement is more than just a feeling. Start your journey with Terryberry's 360 Recognition platform! Together we will improve engagement and overall employee satisfaction, contact us today.