Every leader wants a high-performing team with low turnover and high morale. But knowing how to get there can be a different story. First, you need to understand how your employees are performing.
According to Arijana Koskarova, CEO and founder of Creative Hub, "Evaluating the performance of your employees is the first and most important system to develop in your organization."
The best way to gauge the performance of your employees is through performance management. In this article, we'll discuss the performance management process in detail.
The Performance Management Process
Performance management is the series of activities that you take as a manager to ensure your employees are performing well in their roles. The activities may be in the form of monthly meetings, 1-on-1 sessions, and feedback sessions with employees to determine their state of performance.
You may never know what hinders an employee's performance if there is no proper channel to communicate with them. The aim of performance management is to understand employees better, so they can grow exponentially both professionally and personally.
Person-wise:
In the 1950s, when personality-based performance appraisal systems were introduced, an employee would be rated based on loyalty, responsibility, job skills, and personality. The modern-day expectation is that employees work toward business goals and are consistent with their performance. The performance management process turned from a yearly appraisal system to feedback-driven practices.
Steps in Performance Management System
So, how do you build an effective performance management system in your organization? Let's look at the basic process involved in the cycle and briefly understand the purpose of each process.
The performance management cycle is divided into four processes:
Performance Planning
Performance Observation
Performance Evaluation
Performance Rewards and Employee Feedback

Performance Planning:
The first and most integral step in the performance management process is the planning stage. This is where you convey your business goals to your employees. These goals should be specific, measurable, achievable, relevant or realistic, and time-bound (SMART goals).
Whatever your goal(s) end up being, make a clear plan for how you'll achieve them and be sure to communicate these efforts to your team. It's important that your goals aren't discussed only behind the scenes – your employees will be directly affected by these goals so it's important they feel heard, seen, and understood.
Performance Observation:
Once realistic goals are set, team managers should continue to check in with employees. This should be done in a timely manner through 1-on-1 sessions and meetings. Monitoring weekly, for example, helps to estimate the time taken to complete tasks.
It's important to avoid creating a toxic environment where employees feel that they're constantly being watched. It's important to have a collaborative, mentoring nature in these meetings. Ensure your team knows that the goal is for everyone to succeed and you're there to help them get there - whether that's providing a quiet work area, a faster computer, or clearer expectations.
Performance Evaluation:
During the evaluation process, many factors are considered. Including completion of tasks, quality of work, roadblocks faced, and the time it takes to complete tasks, among other considerations.
360-feedback is one example of the performance evaluation step where the performance of an employee is evaluated based on anonymous feedback from the members of the team. Usually, the feedback is received from the employee's manager, peers, coworkers, clients, or direct reports.
This stage determines whether goals are met and the appropriate results are provided. Here, you get the idea of how to improve the workflow to increase profitability and test the effectiveness of your SMART goals.
Performance Rewards and Employee Feedback:
Based on the results of the evaluation stage, employee rewards and recognition can then be given out. Recognition works by showing employees that their contributions are seen and valued. When an employee's hard work is acknowledged and appreciated, it creates a dopamine surge in the brain. Dopamine is powerful and motivating, and, most importantly for managers, reinforces the behavior.
That's not all:
When employees believe they'll be recognized for their work, they're 2.7 times more likely to be highly engaged. (Quantum Workplace)
Employee engagement, productivity, and customer service are about 14% higher where recognition occurs compared to where it doesn't.
72% of businesses agree that recognition impacts engagement positively. (Harvard Business Review)
82% of people are happier when they're recognized at work. (Curiosity at Work)
There are many different types of employee recognition programs, but they can all be classified into four main categories.
RELATED: Employee Recognition Statistics: What HR Professionals Need to Know in 2022
Social/Peer-to-Peer Recognition
Social/peer-to-peer recognition can be a great way to open up recognition to the whole company and really build recognition into the company culture, all while taking some of the responsibility off of managers' shoulders.
This isn't to say that managers can skip out on recognition. In fact, managers need to lead by example to win employee buy-in. But once a peer recognition platform has been implemented and adopted, recognition is truly owned by everyone.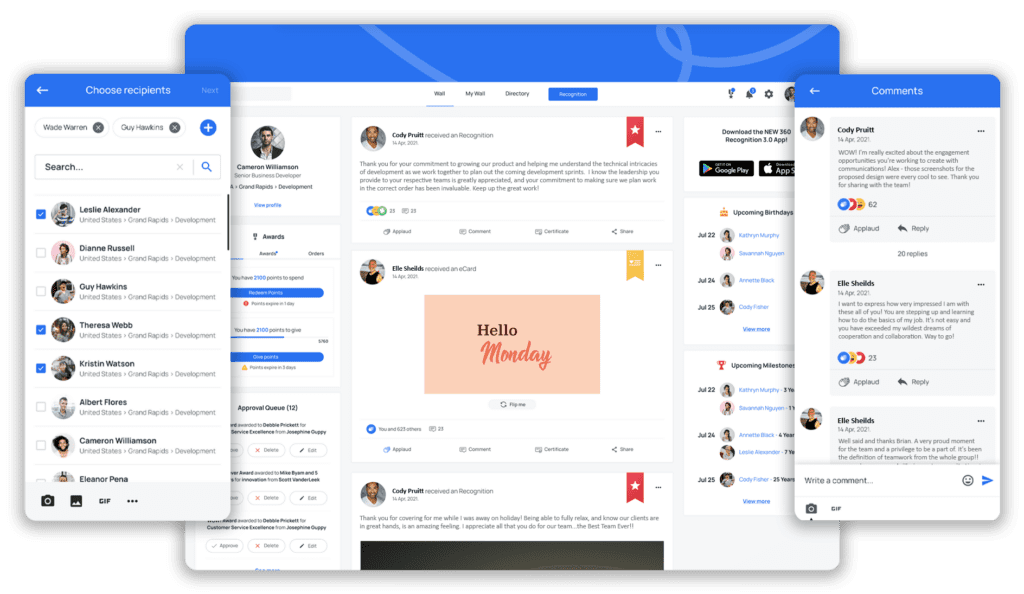 Service Awards
One of the most common and simplest forms of recognition is employee service awards or milestone awards. This option celebrates the time each employee has dedicated to your company.
While these programs have been around for decades, they've changed significantly over the years. Today, employers can celebrate their employees' tenure with points given on their social recognition or reward platform, a shopping experience through an online storefront, or opt for a customized plaque or pin.
Incentive Programs
Quality performance starts with the right motivation. And employee incentive programs do just that – motivate. Employee incentive awards spark employees' potential by giving them a reason to go the extra mile. Whether it's hitting sales targets, promoting safety, or green incentives - these programs are a great way to produce results. 
Terryberry offers an unparalleled selection of products, experiences, and trips that motivate and inspire incentive program participants to achieve their highest potential.   
Monetary Recognition
Monetary recognition can come in many different forms, but some common examples include:
Giving employees a bonus
Giving employees a raise
Offering employees cash rewards
While monetary recognition is often effective, it's impersonal. So, it's important to remember that it's not the only way to show appreciation. In fact, money should not be the only form of recognition you give employees.
Too much focus on monetary rewards can also create a toxic environment, which is often counter-productive. It's important to find a balance that works for your company culture.
RELATED: 22 Employee Rewards and Recognition Ideas for Your Program
Benefits of Implementing a Successful Performance Management System 
Let us compare the benefits of modern practice over the traditional approach to performance appraisal:
Agile management incorporates

constructive feedback,

which has a huge impact on employees' performance. Unlike traditional methods where the feedback is received annually or not on a regular basis.

Employees are rewarded for the achievement of business goals. The

SMART

goal system allows employees to segregate their work and enables them to complete it on time.

Employees are provided with

specific goals and clear objectives of the organization

, reducing the occurrence of miscommunication and wasted time.

The use of

performance management software reduces the time and effort it takes to monitor

every employee in your organization. The technology helps organizations with receiving feedback, scheduling meetings, communicating, tracking workflow, and helping managers decide the overall performance using a single platform.

Continuous feedback empowers employees to share their concerns

and

improve their weaknesses

through guidance and management intervention.
Frequently Asked Questions
1. What are the steps in the performance management cycle?
The four main steps in the performance management process are: 
Planning

Monitoring

Reviewing

Rewards and feedback
2. What are some of the possible problems with the performance cycle?
According to one study, communication is the most difficult phase in the performance management cycle regardless of the system. Poor communication leads to a lack of focus on the right tasks, a lack of trust within the team, less productivity, and failure to meet goals.

Construct Your Performance Management Process with Terryberry
If you could use some improvement with the performance management process, we're here to help! At Terryberry, we offer different recognition programs designed to improve employee engagement, productivity, retention, and morale in your organization.
Schedule a demo with our team to learn more about how we can help you with our Social Recognition platform.