by Kevin Sheridan, Best Selling Author of "Building a Magnetic Culture"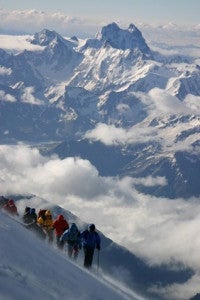 About 18 years ago, I began an athletic journey called "The Seven Summits," a quest to climb and summit the highest mountain on every continent. Early on in the ascent of my first, Mt. Kilimanjaro (19,740 feet), I realized the uncanny similarities between high altitude mountaineering and an organization's or leader's journey to reach the summit of Employee Engagement, which is typically defined as reaching Best-in-Class or Award-winning status (the top 10% of all employers).
One of the most striking similarities is in leadership qualities. Pick your expedition leader or manager carefully—it is the single most important factor in determining your success, either on the mountain or in the workplace.
Having a Plan
During my climbing expedition of Mt. Elbrus in Russia (18,510 feet), I had the honor of climbing with Mr. Vern Tejas, one of the most revered climbers and expedition leaders in the world. Vern mirrored what every great workplace manager does to achieve success; first and foremost, he had a plan of action. He insisted that we plan our climb and climb our plan. We were warned that deviating from our plan could be a recipe for trouble. In fact, the infamous "Into Thin Air" Mt. Everest disaster (29,028 feet) and the 2008 K-2 disaster (28,251 feet) both occurred because the leaders did not stick to the plan. Before both climbs, the climbers planned that if they were not at the summit by a certain time, they would turn the expedition around and head back down the mountain. Neither group stuck to their plan and many people perished.
Following a well thought out plan is just as important in the workplace. Management teams need to work together to decide on the direction they're headed, and establish goals and timelines for doing so. All employees must be informed of the plans so they can work together and help the team reach its goals.
Having Your Back
As was customary on each of Vern's expeditions, the night before we began climbing he hosted a pre-climb planning dinner, asking each team member to share: where they were from, where they had climbed, what their climbing aspirations were, what medications they were on (if any), and whether they had any concerns or fears. I cringed when I heard the last request since it would force me to admit to a group of complete strangers that I had acute acrophobia, or a fear of heights. Given that most of them were climbers and had no such fear, I suspected they would conclude that I was either completely psychotic or a masochist.
Vern knew it was difficult for me to openly admit this fear to the group. Later, he pulled me aside to speak with me privately. (Great leaders know when a conversation should be private or public.) He wanted to speak with me about a particularly challenging part of the expedition, and make sure I was prepared to conquer my (admittedly) pathological fear. Vern informed me of "The Autobahn," a roughly half-mile stretch of sheer ice sloping at a sharp 45 degree angle for two miles down into the abyss. When I asked him why they called it The Autobahn, he was honest, telling me it was named after two German climbers who were the first to die on that section of the mountain; they were dead before their bodies stopped at the end of the two mile sheet of ice. As my heart began palpitating, Vern gave me reassurance, promising me that he'd be right next to me during this section of the climb, and also ensuring that I correctly hooked my jumar (safety clamp) into the fixed line. I knew Vern was an experienced leader, and his confidence in me made me more confident in myself. I felt at little more at ease knowing he would be there to help me.
True to his word, when we eventually traversed The Autobahn, Vern was right there beside me. He reminded me of his presence by simply placing his hand confidently on my left elbow. Physically, I could have made it through that part of the climb on my own, but mentally, I couldn't have done it without a great leader giving me guidance and instilling confidence in me.
Great managers in the workplace give that same reassurance to their employees. People want to know their manager truly cares about them and "has their back." When managers are traveling the same journey alongside employees, it also adds an important level of authenticity to reaching goals; everyone is in it together, and helping each other helps the whole team. This support gives employees the courage to push forward in uncertain times, and do their best work.
If you want to reach the summit of employee engagement, it's simple: hire world-class leaders to guide your team up the mountain.


Join us as Terryberry hosts Kevin Sheridan for a free webcast on Bridging the Gap, Engaging Virtual Employees, January 28, 2015.  Click to Register.
***
Kevin Sheridan has spent thirty years as a high-level Human Capital Management consultant. He has helped some of the world's largest corporations break down detrimental processes and rebuild a culture that fosters productive engagement, earning him several distinctive awards and honors in the process. Kevin's newest product, PEER®, is consistently recognized as a long overdue, industry-changing innovation in the field of Employee Engagement, and his most recent book, "Building a Magnetic Culture," made the New York Times, Wall Street Journal, and USA Today best-seller lists.
Web page: www.kevinsheridanllc.com
Twitter: @ kevinsheridan12
LinkedIn:  http://www.linkedin.com/in/kevinsheridan1
Email:  kevin@kevinsheridanllc.com