Onboarding is a crucial time for building a productive relationship with employees.  If new employees don't get plugged in and connected with the team from the get-go, it will be extremely difficult to do later.  According to a study by digitate, employees who have a negative onboarding experience are 2X more likely to look for other opportunities.  When onboarding employees remotely, it's imperative to be proactive about social connections and workplace culture.
Help Remote Employees Develop a Sense of Belonging in the Team
Organizations that are faced with the task of onboarding employees remotely will want to include a plan for encouraging connection with the team.  Without a proactive plan, the experience for remote employees has the potential for isolation and lack of interaction with coworkers. Under these circumstances, we know it takes more effort on the part of new employees as well as the established team in order to create an atmosphere for open communication where positive relationships can form.
It's important to acknowledge the distance and the challenge it brings, and find ways to welcome new employees warmly with opportunities to connect and be successful.
Onboarding Essentials for an Employee Recognition Program
Let's look at some ways an employee recognition program can help to create connections with new hires.  Terryberry has a built-in onboarding process as a part of their 360 Recognition Platform, and which is described below.  If you don't have 360 Recognition, you can certainly adapt these concepts into your system.
There are 3 parts:
New hires are invited to upload a profile photo and take a "get to know me" survey where they can share some personal details like hobbies and likes, as well as recognition preferences. This lets team members know a little bit about them as an individual.
Meanwhile, the employees' supervisor is encouraged to share a welcome aboard ecard on the recognition wall. This is visible to immediate team members and the organization as a whole so that others can comment and extend a welcome.
Third, new hires receive a Welcome Aboard gift or award from the organization. This can be something small like a gift bag with a notebook or water bottle with the company logo.  We encourage companies to think about their culture and infuse some "company personality" into the welcome gift.  When it's not possible to meet face-to-face, the award can be delivered to the home with a handwritten welcome note.  A presentation with a formal welcome can be made in a virtual meeting or online town hall. It's recommended to include members of the team or workgroup in this presentation.
The goal is to create an environment for new employees that encourages productive and positive relationships with the team. Within a larger organization, naturally some teams and managers are more proactive and comfortable about this relationship-building than others.  That means that as an organization, when you can have infrastructure available for your teams to onboard their new hires, you'll be more consistently successful in this endeavor.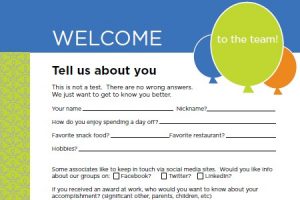 Download Terryberry's Onboarding Questionnaire
Onboarding is just the start
An employee recognition program can support a sense of community over time for remote workers, too, providing day-to-day encouragement and feedback. Commit to building an environment where healthy connections can occur between coworkers and you'll reap the benefits of productive and engaged remote employees.
Interested in adding onboarding resources to your employee recognition program? Contact Terryberry to learn more.