Employee engagement is crucial to business success. But how can managers develop personal leadership habits that lead to engagement within their teams? In this post, Lisa Ryan shares six essential traits that every leader can develop to impact their group in a meaningful way. THANKS to Lisa Ryan for the inspiring and actionable post!
Want to hear more? Join Terryberry's Mike Byam and Grategy's Lisa Ryan for a free webcast on September 18: HARNESSING THE POWER OF GRATITUDE FOR SUCCESS IN LIFE AND BUSINESS. Register here.
by Lisa Ryan, founder of Grategy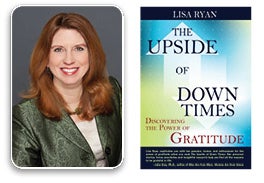 How would you react if someone suggested that you get to know your staff by taking one of them to lunch every day until you met with everyone in your department? Would you be willing to meet with your employees one-on-one for at least fifteen minutes to get to know more about them? What about simply showing interest in the people that work for you? These are some of the approaches that are utilized by successful leaders with the benefits of greater loyalty, engagement, and commitment from their employees.
Sound crazy? Are you thinking that you just don't have the time to invest in this? Well, what are your options? Think about it, people don't leave their jobs – they leave their bosses. When your employees feel that they are a valuable part of your organization, they stay. When they don't, they leave, and you risk losing your best and brightest talent.
By implementing a few simple strategies, you and your organization will receive huge payoffs in your employee retention, satisfaction, and performance.
Here are six ways you can take your T.H.A.N.K.S. to the bank:
T = TRUST is the foundation of a productive work environment; without it, nothing else matters. An organization's leadership team builds employee confidence by emphasizing mutual goals, sharing corporate missions and values, and treating staff members as partners. Getting feedback and buy-in from employees when implementing new processes also plays an important role in developing confidence in management.
H = HELP your staff envision their career path within the organization. A clear and concise career path is one of the biggest factors for improving employee retention. Schedule regular meetings with your employees to find out what's working for them, and what's not. Create a safe environment for them to openly share their feedback with you. Care about your staff's careers, and they will care more for your company.
A = APPLAUD the efforts of your team members. What gets recognized gets repeated, so make sure to be specific in your praise. Let your employees know how their individual actions are beneficial to your firm. A handwritten note goes a long way in giving your employees tangible "proof" of their contributions. Make sure you acknowledge your employees in the manner in which THEY want to be recognized.
N = NAVIGATE the work/life balance. Whether your employees are dealing with young children, aging parents or anything in between, look for ways you can accommodate how the work gets done. Pay more attention to the outcome than the means of finishing the job. Working within your employees' timeframes helps them to be more productive; they are able to focus on the job at hand and not be distracted by all that is going on in their personal lives.
K = KNOW your staff. When you show interest in, and listen to your team members, they feel more connected to the organization. Meet them where they are: if they are open to sharing, pay attention to what they're saying; if they want to keep their personal lives personal, don't pry. Simply asking a few general but somewhat personal questions, in a safe environment, makes a positive impression and creates a more open culture.
S = SERVE your team. Look ways to provide reinforcement for your staff. If you see someone struggling with an assignment, pitch in and assist them. Once the leadership team shifts from ignoring employee issues to jumping into the trenches with them, management generates a spirit of collaboration that permeates the organization. Encourage, energize, empathize, and most of all, lead with your heart.
When your employees TRUST you, they will perform at a higher level. When you HELP them envision their career path, they engage. When you APPLAUD their efforts, they are proud to work for you. When you help them NAVIGATE work and life balance issues, you reduce their stress. When you get to KNOW them, you make your employees feel significant. And, when you SERVE them, they feel included in the process. Harness the power of T.H.A.N.K.S. and your organization will reap the rewards.
***
As Founder of Grategy, Lisa Ryan works with organizations to create stronger employee and customer engagement, retention and satisfaction. Her proven gratitude strategies (Grategies) lead to increased productivity, passion and profits. She is the author of six books, and co-stars in two documentaries: the award-winning: "The Keeper of the Keys," and "The Gratitude Experiment." To learn more, visit www.grategy.com.