It wasn't your average tradeshow breakout session presentation. And it wasn't a paid commercial, either. It was Marty Guastella's sincere praise and testimonial for Terryberry's Give a WOW! that engaged an afternoon audience on July 28, 2010 at the 2010 Cleveland HR Star Conference.
What is Give a WOW!?



Give a WOW! is Terryberry's online and interactive, peer-to-peer recognition solution, social-media style. It's a different kind of recognition program. Give a WOW! ignites the power of appreciation in your business with employees on all professional levels and across all industries, even continents! It connects your people to your own network of positive communication, personal interaction, and meaningful recognition…in real-time. Demo Give-a-WOW! today.
Marty Guastella, Vice President of Human Resources for King's Medical Group, Inc., spoke about his healthcare organization's recent recognition overhaul and their efforts to "combine planning, achievement, skills growth, character development, recognition and reward in a comprehensive program." The results for Marty & King's Medical, after implementing Give a WOW!, have been astonishing. Their success with the 360 degree recognition program continues to flourish as over 70% of King's Medical employees actively participate and use Give a WOW! to recognize, reward, and inspire others. Upper management and human resources professionals benefit from the opportunity to connect with everyone in their organization on one platform, and also to view Give a WOW!'s dashboard as a supplemental tool when it comes time for performance reviews. What a great way to see who's receiving and giving recognition and potentially spot future leaders for the organization.
How did they do it?
King's Medical began by creating King's Employee Development System, (KEDS). This 3-part system defines their vision and plan for creating a culture of professional development & recognition. The three parts are: Professional & Personal Goals Worksheet, Character Development Worksheet that focuses on mission, vision, values, and Recognition with Give a WOW! Marty encouraged the audience to adopt King's Medical's philosophy of turning upper management into "coaches." By losing the "management" or "boss" title and adopting the term "coach", employees are able to view their superiors as a supportive mentor and cheerleader for their success in the organization. Employees become responsible then, for their own success and are held accountable for the professional goals they set for themselves.
Marty stated that empowering employees promotes trust and good morale in the workplace. This idea of empowerment and recognition are not just core values printed on a poster, framed on the wall in your office. They are real-life values that need to be practiced. Marty and King's Medical practice them daily with Give a WOW!
Our innovative Give-a-WOW! online peer-to-peer recognition solution is fun, easy to use and allows workers to get more involved in workplace culture. Terryberry's RecognizeMe! products also allow you to recognize workers on-the-spot and thank them for a job well done.
Keep your best and brightest employees engaged and satisfied on the job. Learn more about Terryberry's employee recognition solutions today!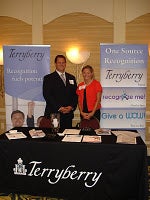 Thank you all those who visited the Terryberry booth!
We enjoyed meeting you and hope to have the opportunity to help recognize, reward, and inspire your employees!
~ Andrew Makl, Sales & Emily Schulte, Marketing