It's a great day in the employee recognition business!  We're honored to be named one of the Nation's Best and Brightest Companies to Work For for the 2nd year in a row, and we're equally proud that we can share the recognition with a number of our customers. Congratulations to all of the winners of the 2017 Best & Brightest Companies to Work for in the Nation!
The Employee Experience at Terryberry
Being recognized for our workplace culture is an honor that we are all proud to celebrate here at Terryberry.
Our team operates with the understanding that the Employee Experience at Terryberry is the responsibility and product each of our staff members.
It's the attitudes, behaviors and contributions of everyone in our organization that make up the workplace culture our employees experience on a day-to-day basis.   That means all of us are responsible for creating a better Terryberry today than we were yesterday.
Being in the Employee Recognition business, our goal is to lead by example.  We can only do an excellent job at helping other organizations build a great culture of recognition if we have also done so in our own business.   We believe that our workplace at Terryberry is one where employee wake up in the morning and look forward to making a difference at work. We strive to create a work environment that fuels purpose and potential in our people.


What Makes a Best & Brightest Company to Work For?
The Best and Brightest Companies to Work For® award honors employers that demonstrate excellence in areas such as communication, work-life balance, employee education, diversity, retention and recognition.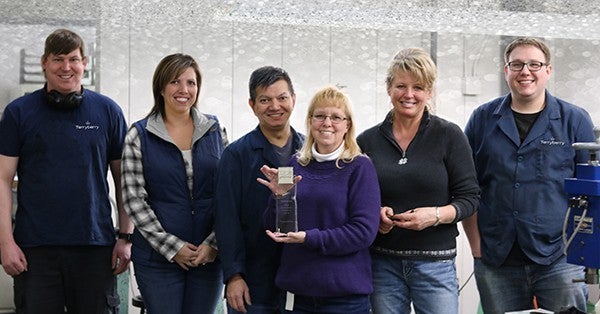 Why Recognition is Important
Recognition is a top driver of employee engagement and job satisfaction.
Organizations that invest in recognizing employees' efforts and contributions -consistently and authentically – build a foundation for a workplace culture where employees are motivated to give their best effort toward the mission of the company.  The results of a great workplace culture are stronger employee retention, better customer experiences, and ultimately greater success in achieving the organization's mission and goals.
The Terryberry Customer Experience – Build a Recognition Culture
Terryberry's mission is to help organizations build a culture of recognition in the workplace, providing infrastructure, training, staff rewards and tools.  We love to see our clients earn recognition for the great workplaces that they have built, and it's an honor to be a small part of great employee experiences all over the world.