by Matt McIntosh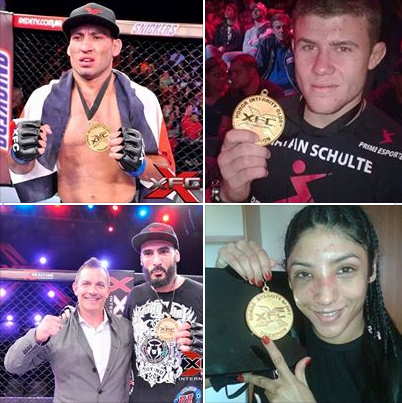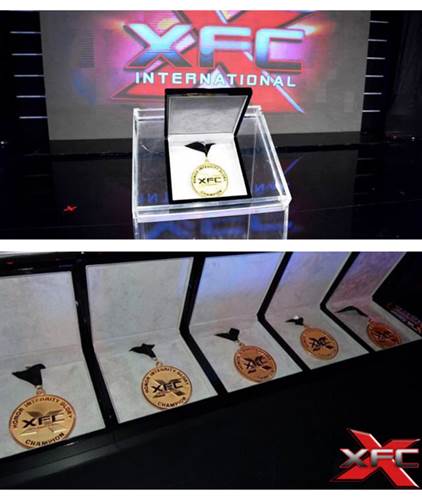 June, 2014 – Terryberry and XFC International has formed a new partnership in the world of Mixed Martial Arts.  A referral from a local jeweler here in Grand Rapids, Michigan has led to a very unique relationship with the world's second largest MMA organization.  The President and CEO of XFC came to Terryberry 4 weeks ago and wanted to do something other than the 'big outlandish' championship belts that you see in the world of boxing.  They wanted something that was more like 'Olympic' Gold Medals.  So in our conversation we were able to discuss the design and how this Championship medal had to look.  It turned out to be a double-sided 3 ½" cast medal with a coined edge.  It was a true manufacturing feat in the fact that our Factory was able to complete 10 finished medals in ONLY 6 working days!!!!  The medals were hand delivered to Myron Molotky, President of XFC at the Grand Rapids Airport prior to him catching a flight to Brazil for the World Championships on June 7th, 2014.  The event was televised Live on REDE TV!  RedeTV! is a Free / Open TV Brazilian television network.  It was the first network worldwide to be broadcast in 3D.  The finished medals were presented in the ring on Live TV to the 8 Championship Fighters in each tournament weight class.
 
XFC (Xtreme Fighting Championships) was founded in 2006. XFC is a premier mixed martial arts corporation and has produced stadium fight cards throughout the United States. XFC also established attendance records (event drew over 11,000 fans to the St. Pete Times Forum on November 11, 2007). XFC International has offices in Sao Paulo-Brazil, Buenos Aires-Argentina and Tampa Florida. The Corporate Head Quarters are located in Spring Lake, Michigan.  XFC is the fastest growing MMA group in Latin America.  It is the second largest MMA organization behind the UFC.  Their expansion will continue in 2015, with the growth of XFC International throughout all regions of Latin America, Europe and Asia.

We are proud and excited to partner with a true CHAMPION!