Studies show that positive workplace relationships with peers are a key predictor of employee engagement, and that recognition from colleagues is highly valued. As a result, more and more organizations are implementing formal peer-to-peer recognition programs.  If your company is one that is looking to start or expand a peer recognition program for 2015, these 6 tips will offer timely ideas.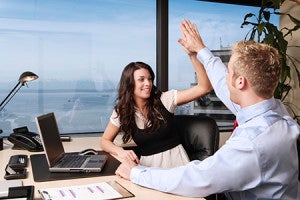 1.     What Contributions Are Important to Your Business? Effective recognition supports your mission, vision, and values. When you use the Give a WOW platform, the program is customized so that recognition is tied specifically to your organization's corporate objectives.
2.     Be Inclusive. In an effective peer recognition program, any coworker can nominate a peer for going above and beyond. Give a WOW builds an inclusive recognition network within your business that creates powerful visibility for the attitudes, behaviors and contributions that make your business go.
3.     Make Recognition Visible. Highlighting the positive things that are going on in your organization is a powerful business tool for so many reasons. Keep recognition at the forefront of your workplace culture through offline and online communications.
4.     Reward Appropriately. Sometimes a simple thanks is all it takes to make someone's day. And sometimes you need something more. Give a WOW's integrated award mix is customized for your business needs. You'll be equipped with appropriate gifts and awards to say thanks for contributions great and small.
5.     Make it Easy. Our motto is "simple is better." With Give a WOW, giving recognition for great work is easy for everyone. When it comes to managing the program, Give a WOW is flexible to work with virtually any organization's workflow needs. Often department managers review employee nominations within their teams. For top recognition awards, a recognition committee may select recipients. For some achievements, a threshold number of nominations automatically qualifies the recipient for special awards. Whatever your workflow needs, we have a WOW for that. And if you want some guidance in developing the process, we have a WOW for that too.
6.     Make it Fun. Giving and receiving recognition should be a positive experience for everyone involved. With Give a WOW, recognition is fun, interactive and authentic. What could be better than that?!