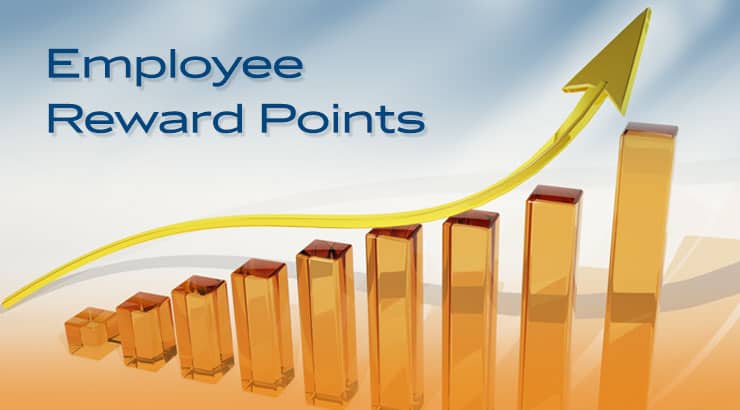 Points-based employee recognition programs can be a great way for managers to communicate goals, impact employee behavior, and reward staff for efforts that move the business forward.  In these types of recognition programs, employees earn points rewards for a variety of achievements.  Participants accumulate reward points over time and redeem them for merchandise or other rewards.
Benefits of Reward Points Programs
The benefits of reward points programs, like Terryberry's AwardPoints program for example, are many:
Communicate Goals
Motivate Desired Behaviors
Report Progress
Engage Participants
Reward Performance

>>Watch a demo of Terryberry's AwardPoints platform.
When to Use Reward Points
The types of achievements that are recognized and rewarded in points-based performance program can be varied.  These types of programs are generally most effective when there are many different opportunities for participants to earn points throughout the month and year.  Any behavior that your organization wishes to encourage is a good candidate for rewards points. Some examples:
Achieving Productivity Goals
Achieving Safety Goals
Achieving Customer Service Excellence Goals
Sales Achievements
Wellness Activities and Healthy Behaviors
Perfect Attendance
Peer Nomination
Spot Awards from Managers
Training Accomplishments
Certification Achievements
Pair Points with Personal Praise
AwardPoints software can be used to easily award points to participants, report performance, and redeem awards.  Multiply the impact of the points rewards by incorporating personal praise and offline communication.  In Terryberry's AwardPoints program,  managers can add a personal note when awarding points to employees to reinforce the meaning of the recognition.  The AwardPoints program also creates personalized certificates that can be printed and presented to recipients as a visible reminder of accomplishments.
Points Rewards Build Continuous Motivation
Reward points programs can be a powerful tool to keep team members focused on the goals and motivated to continually strive to achieve at higher levels.  In some cases,  leaderboard features can provided added motivation and fuel healthy competition.