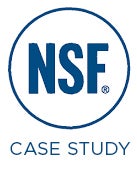 Business experts agree that an organization can have a great product, a bullet-proof business plan, and top-notch marketing, yet all of these components are not enough to ensure success.  Without engaged employees, organizations will struggle to prosper.
As a result, CEOs are on the hunt for the silver bullet to help them gain the edge when it comes to engaging their people with the mission, vision and values of the business.  It turns out that the throwing money and perks at employees is not the answer to the employee engagement question.
Studies show that the #1 driver of employee engagement is very simple and costs almost nothing.  Employees want recognition for their contributions.
NSF International, a fast-growing public health and safety organization based in Ann Arbor, Michigan, is taking employee recognition seriously. Knowing that employees thrive on being recognized for their contributions, and wanting to demonstrate the high value they place on their people, NSF International has built a progressive employee recognition program that harnesses power of employee appreciation built on their seven core values.
The program reaches all of their 2,100+ employees located across the globe including the US, Canada, China, South Africa the UK and India.  Since the greatest challenge with employee recognition is giving employees enough of it, NSF implemented a process whereby anyone in the organization could recognize any employee, anywhere among their worldwide locations, anytime an employee is seen demonstrating NSF's core values.
NSF acknowledged the importance of getting managers' support and participation for their employee recognition program, so they've taken a proactive approach to educate managers on the value of the program.  Take a look at this fun video NSF's HR department developed to communicate "what's in it for them" to their front line managers to get ideas for your own organization on how to encourage manager participation in your recognition program.

Join us May 13, as Terryberry's Mike Byam interviews NSF's Julie Woodruff about the development, launch and promotion of their ground-breaking employee recognition program.  Learn real-world strategies from NSF's case study that you can apply in your own organization. Register  Today.