by Walt Chrisman, Terryberry Business Development Manager, Southwestern United States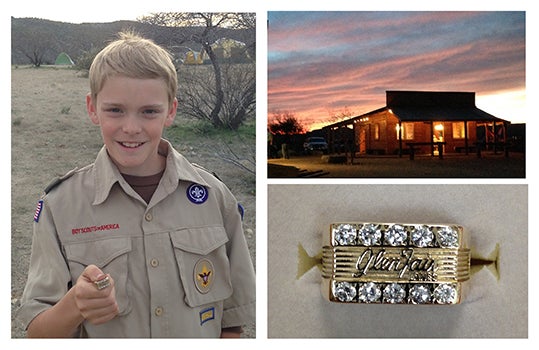 This past February my son, Wesley Chrisman, went with his Boy Scout Troop 148 to Boyd Ranch Community Equestrian and Nature Park to work on an Eagle project.  They would be building an equestrian obstacle course.  Boyd Ranch is owned by the Desert Caballeros Western Museum in Wickenburg, AZ and this is the third year in a row that our troop has completed an Eagle project at the ranch, improving the trails and orchard.
We set out for a Wild West Adventure that Friday, and we got even more than we bargained for.
Our Boy Scout Troop arrived at the ranch Friday afternoon and set-up camp.  Saturday morning, 12-year old Wesley got up and went to help prepare breakfast for the troop.  He was cutting across the desert on his way back to the tent when he stopped to tie his shoe.
As he stood up, something in the dirt caught his eye. He picked it up and discovered it was a gold ring with diamonds!
Wesley brought the ring back to the tent to show me.
"Guess what I found?" he exclaimed.
I soon as I saw it I knew what it was. A quick glance inside the band of the ring confirmed it was a Terryberry award ring.
I said to my son, "Do you know what this is?"
"Yeah, a gold ring with diamonds!" Wesley said.
I explained that this was a Terryberry ring and that we were going to be able to find out who lost this and return it to him.  The disappointment of realizing he wasn't going to be able to keep his new found treasure was soon replaced by the excitement and adventure of finding out who the ring belonged to and returning it.
We began to look for clues about the mysterious ring.
Who was the owner of this valuable piece of  custom jewelry?  Why had it been made? When was it lost?  We had lots of questions, and so far, very few answers. But that was all about to change as this strange story unfolded.
The owner's initials T.B.O had been engraved inside the band.  The ring design also included the company name Glenfair Lanes.
Back in the office on Monday, I began sleuthing.  I dug through the Terryberry archives to find the company's order history.  It turned out that the ring Wesley had found was made exactly 25 years ago in March of 1990! It had belonged to Tom B. Ogden, the owner of Glenfair Lanes bowling alley in Glendale, AZ.  An internet search revealed that Glenfair Lanes is still a thriving business.  A short phone call later, and I had been informed that Tom Ogden had passed away a few years ago, with no known family in the area.
Not quite sure what to do next, I went back to the internet hoping to find an archived obituary that could tell me more about Mr. Ogden.  I was surprised when I actually found one.  I learned that Tom had passed away in November of 2012, that he was actually born in Grand Rapids, MI (where Terryberry is headquartered) and that he was in the U.S. Marine Corps prior to moving to Arizona.
Tom was a businessman and enjoyed the Wickenburg area. He was a member of the Desert Caballeros and had completed his 50th year ride. He was also a member of the White Mountain Range Ride.
This was all very interesting, but what really jumped out at me was the suggestion that any memorial contributions in Tom's memory be made to the Desert Caballeros Western Museum in Wickenburg, AZ!  This brought the story full-circle, as this is the museum that owned the ranch that we were working at.  Tom obviously spent time there as well and supported the museum and ranch.
When I told this story to Mike Byam, Terryberry's Managing Partner, Mike revealed yet another amazing coincidence in this unlikely web of events.
Mike's grandfather, Parker Terryberry, was known to frequently drive from his home in Grand Rapids, Michigan to Wickenburg, AZ to spend time at…wait for it…a dude ranch where he went horseback riding.  Was it the same dude ranch where Mr. Ogden lost his ring?  We may never know, but the string of clues in this exciting story continues.
Since I wasn't able to contact Tom or any of his family, I contacted the Committee Chair for Boyd Ranch, Tom Watt.  Tom was actually out at the ranch the previous Saturday night addressing the Scout Troop and thanking them for the projects and hard work they put in at the ranch.  When I got a hold of Tom he couldn't believe the story.  He said he did know Tom Ogden and shared some stories about him and some of their rides together.  He was very appreciative of us trying to return the ring.  I told him that Wesley and I would drive back out to Wickenburg to visit the museum and bring him the ring.  He said he would do his best to locate any of Tom's family to see if they would like the ring or donate to the museum.  I told him that was a great idea and either way it would end up back with the family or the ring's value could go towards benefiting the museum.
The only unanswered question that remained is how long ago the ring was lost, waiting out in the desert elements until Wesley came walking along.

 For 25 years, Walt Chrisman has been the Western Regional Business Development Manager for Terryberry.  He lives in Scottsdale, Arizona with his wife Cathy and his three children, Wesley, Abigail, and William.