The Company
Chelsea Groton Bank is the largest mutual bank in Eastern Connecticut, operating 15 locations with 225 employees. Chelsea Groton was founded in 1854, and the bank has built a trusted reputation with its community and partners over 165 years. Chelsea Groton's vision is to be an innovative financial services company that inspires its employees, customers and communities to achieve their full potential.
The Challenge
Chelsea Groton Bank wanted to provide staff with more recognition of day-today contributions. They also wanted their recognition program to reinforce their company culture and strengthen their internal brand.
The Solution
Chelsea Groton expanded their partnership with rewards and recognition provider Terryberry, adding the 360 Recognition Platform onto their existing service award program. Chelsea Groton utilized Terryberry's modules for: Give a WOW
(peer-to-peer recognition), AwardYourTeam (manager-driven recognition), Recognition Analytics, AwardPoints, AwardChoice, and Service Awards. Using Terryberry's Banners and Buttons functionality, Chelsea Groton branded the program Chelsea Acorn Rewards and rolled out the expanded program to their staff in 2017.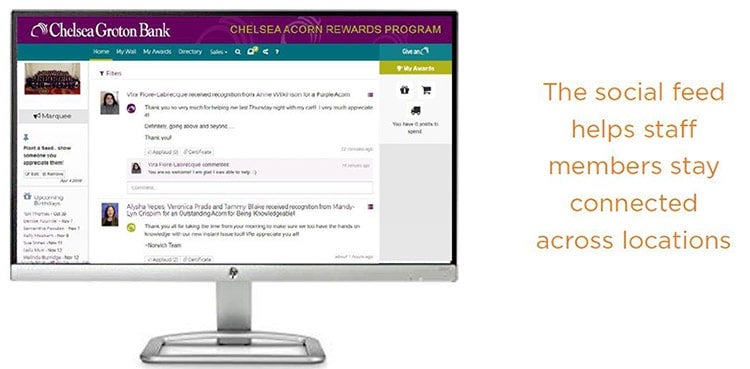 The Results
Employee participation in the Chelsea Acorn Rewards program is more than double the average participation for financial organizations. Staff members connect daily with each other and with the bank's core values.
Leadership is actively involved in Chelsea Groton's recognition program. "At the top level, our leaders are participating, and that trickles down to the rest of the organization," says Chelsea Groton Bank's HR Specialist Rachel Evrett. Employees who receive the highest level of recognition in the program – the Mighty Oak Award – attend one of the bank's senior team meetings, where the team member is recognized in front of their manager and senior leaders.
Learn more about Terryberry
Terryberry is a provider of employee rewards and recognition programs, serving thousands of clients in North America and the UK. The company has been family-owned for over a century.