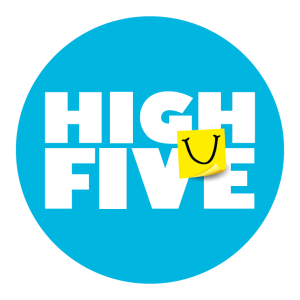 Terryberry is partnering with Gilda's Club of Grand Rapids in their effort to raise  funds for children living with cancer or grief, and for their in-school emotional health programs.
Give Gilda's Club a "High Five" (a $5 donation) and your gift will be matched (up to $50,000) by five local companies: Terryberry, Feyen Zylstra, Pioneer Construction, Eenhoorn, and American International Foods. This match will make your $5 gift into a $10 donation!
Bring a SMILE to the face of a child and give Gilda's Club a "High Five" today. It's sure to bring a smile to your face as well!
Here are the ways you can High Five us:
1. Purchase a button from participating West Michigan restaurants and businesses.
2. Donate online here.
High Five buttons are available now through March.
Join us now to help us meet our goal of $100,000 worth of High Fives!