June 1st marks the beginning of Pride Month – an important time to acknowledge and celebrate the history and people of the LGBTQ+ community. It's also a great opportunity to learn how to celebrate pride month at work and develop strategies that support your company's diversity, equity, and inclusion efforts.
So, don't just make your logo rainbow colors and call it a day. Instead, take some time to develop a few thoughtful initiatives that make the LGBTQ+ community at your company feel seen and welcome.
If you're unsure of where to start - don't worry! We're here to show why Pride is important and how to celebrate Pride Month at work.
Pride Month History
Pride Month has its roots in the 1960s, after police raided the Stonewall Inn – a gay bar in New York City. Patrons of the Stonewall Inn fought back when the police became violent during the raid. Then, continuing tension caused more protests for the next several nights. These riots are known today as the Stonewall riots.
Within weeks of the riots, village residents organized into activist groups demanding the right to live openly regardless of their sexual orientation, without fear of being arrested. The year after the riots, the first Pride marches were held in several US cities.
The goal of these marches was to commemorate the Stonewall riots and push for further liberation. The Pride movement spread rapidly across the US. In 1999, President Bill Clinton declared "the anniversary of [the] Stonewall [riots] every June in America as Gay and Lesbian Pride Month."
In 2011, President Barack Obama expanded the officially recognized Pride Month to include all of the LGBT community.
Today, the Stonewall riots are widely considered the watershed event that transformed the gay liberation movement and the twentieth-century fight for LGBT rights in the United States.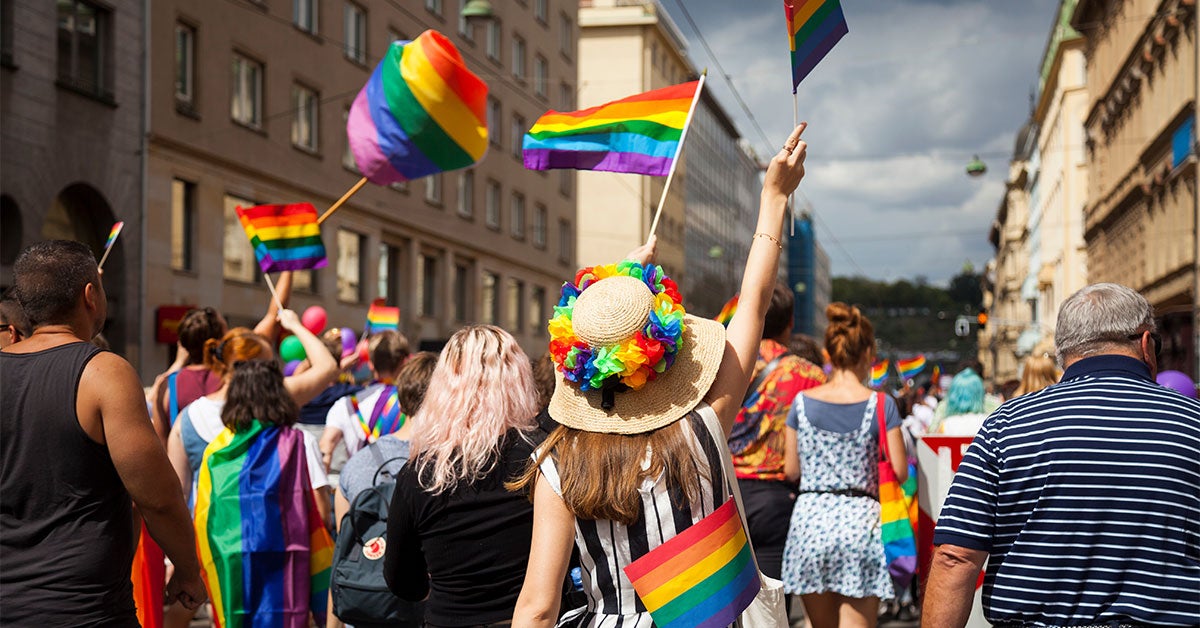 How to Celebrate Pride Month at Work
Some people may hesitate to mix Pride month with work - they may feel like the office isn't the place to have these types of conversations. But as leaders, it's important to understand that you may have staff members who don't feel safe sharing a part of their identity at work. They may be afraid of discrimination, bias, or they may even fear for their safety.
Finding ways to incorporate Pride month into your DEI strategy is just one way to show your LGBTQ+ team members that they're safe and they belong. It reinforces that your company's work culture is one of acceptance, progress, and inclusivity.
Here are 10 ways to start celebrating pride at work:
1. Diversity Training
While not usually thought of as the most festive activity, DEI training can be helpful to lay the groundwork for further Pride activities. It shows your team that the company cares about this issue enough to invest in education around it.
Consider a lunch and learn training to kick off June. Start with a brief history of Pride month, what your goals are for the month, and what initiatives you'll do to achieve those goals.
2. Pride Book Club
Your company may already have a book club group. If so, make June's book a Pride celebration by choosing an LGTBQ+ author or a book that helps educate about the LGBTQ+ lived experiences.
Some options are:
Untamed, by Glennon Doyle
Middlesex, by Jeffrey Eugenides
Detransition, Baby, by Torrey Peters
Over the Top, by Jonathan Van Ness
The Danish Girl, by David Ebershoff
3. Pride Playlist
This simple (but fun!) idea gives your employees a ready-to-go playlist full of either LGBTQ+ artists or ally musicians. Make the playlist on Spotify and give your employees a link to listen while they work.
Some songs/artists are:
Make Me Feel, by Janelle Monae
Born This Way, by Lady Gaga
Heart to Break, Kim Petras
Vouge, Madonna
Dancing with a Stranger, Sam Smith
True Colors, Cindi Lauper
Special, Lizzo
4. Pride Dress code
Give casual Friday a twist and encourage people to wear rainbow or rainbow colors. It's a small, but meaningful way to have people show solidarity with their LGBTQ+ friends and colleagues.
5. Catered Lunch
Opt for an office lunch catered by a local, LGBTQ-owned business. Leave the company's business cards out for people to grab and remember to visit later.
6. Pride Trivia
Host Pride trivia either during lunch, after hours, or as an afternoon break. Ask questions about important dates in history, LGBTQ+ icons, pop culture, flags, and more. Break out into teams and award the winning team a prize.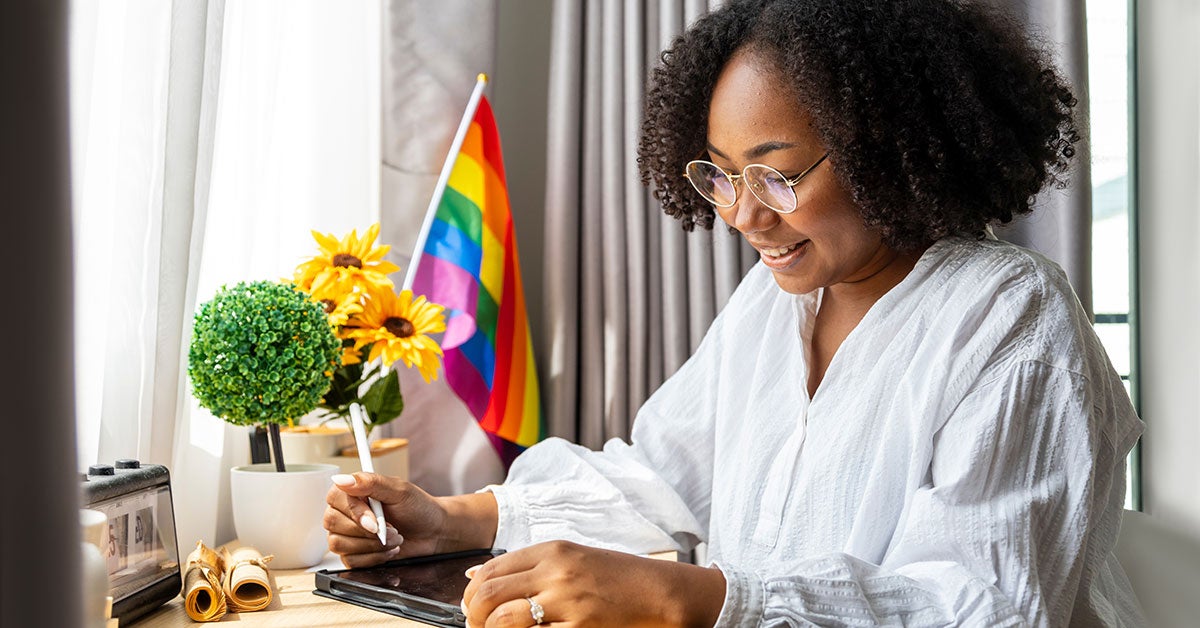 7. Donate to a Cause
Donating money to an LGBTQ+ organization either locally or nationally. This will not only show your support, but it will be a huge help to the organization. They'll be able to develop more resources for those in need and become more active in the community.
8. Create an LGBTQ+ Employee Resource Group
If you don't already have one, develop an LGBTQ+ employee resource group. Employee resources groups (ERG) are employee-led groups whose goal is to foster inclusivity and community.
These groups are there for others to lean on for personal and professional support, and can even help educate people outside the group.
9. Start Pronoun Sharing
To show support while helping to avoid any confusion around gender identity or gender-ambiguous names, consider adding gender pronouns to company email signatures.
Just remember to not make this mandatory. Some people may be on a very personal journey with their gender identity, and they may not be ready to share. But knowing that when they are ready, that their company is a safe spot to do so will likely make them feel a sense of connection and belonging.
Going Forward
Diversity in organizations is not only good for business, but it's also a value that benefits people everywhere, as well. Striving for a more diverse and inclusive workforce will likely come with some challenges, but transparency and continued efforts will result in a rich, thriving work culture.
Work with Terryberry
Terryberry provides solutions to help build a healthy, accepting work culture through effective employee engagement. These solutions include:
Ready to learn more? Schedule a demo with our team to get a hands-on walkthrough of how Terryberry can transform the culture of your workplace.