'Tis the season to be recognized!
The holiday season is approaching quickly! Can you believe it? Time may be flying but around here, we can't wait for the holiday season. There couldn't be a better opportunity than to celebrate your employees during the holidays.
However, the holiday season has looked quite different the last couple of years. Some of us may still be completely working remotely, some of us may have a hybrid schedule, while others might be fully back in the office. Whatever your circumstances are, there are still ways you can celebrate employees during the holidays.
If you're looking for ways to recognize your employees in an exceptional way this year, we're here to help. Below are some ideas to celebrate your employees during the holidays.
How to Celebrate Your Employees During the Holidays
Whether you want to go all-out or share a small token of your appreciation, there are ways to celebrate your employees for every company. Here are some ideas to get you started:
Timeless Traditions
From a classic holiday party to Toys for Tots donations, whatever your yearly traditions are they help establish a strong company culture. If you're looking to start a new tradition, why not get a bit creative and have some fun?
How to Celebrate Employees During the Holidays:
Cookie Baking or Decorating Contest
White Elephant Party
Secret Santa Exchange (Remote or in-office)
Team Gingerbread House Contest
Cubicle Decorating Contest (Individual or Team-based)
A Sweet Soiree
Whether you're fully remote or back in the office, there are multiple ways to host a great office party to celebrate your employees this holiday season.
Did you host a big office holiday before with dinner, cocktails, and entertainment? Some big parties like this are the highlight of the year for many employees. Because of this, they're often an important part of company culture.
However, if you're unable to host an in-person holiday party this year, consider hosting a virtual one instead! You can utilize video conferencing platforms like Houseparty, Zoom, Microsoft Teams, or Google Hangouts. These platforms have great features that will help your employees feel connected without having to be there physically.
Consider sending your employees a holiday party package. You could include festive decorations and an gift card to have dinner delivered to their house. Everyone can eat, drink, and be merry while leadership presents awards, or plays holiday-themed games! It may not be the same as being in person, but an effort like this will likely go a long way with your team.
Gentle Gestures
This is a simple idea, and easily achievable for smaller companies (less than 200 employees). Send your employees a handwritten, personalized card. This may not sound like the most clever or expensive idea, but it can make a big impact on your employees during the holidays.
So much so, according to one study, a thoughtful employee Thank You note motivates employees more than the prospect of a cash bonus or promotion. A simple gesture like a personalized note can go a long in making your employees feel valued and recognized for their contributions.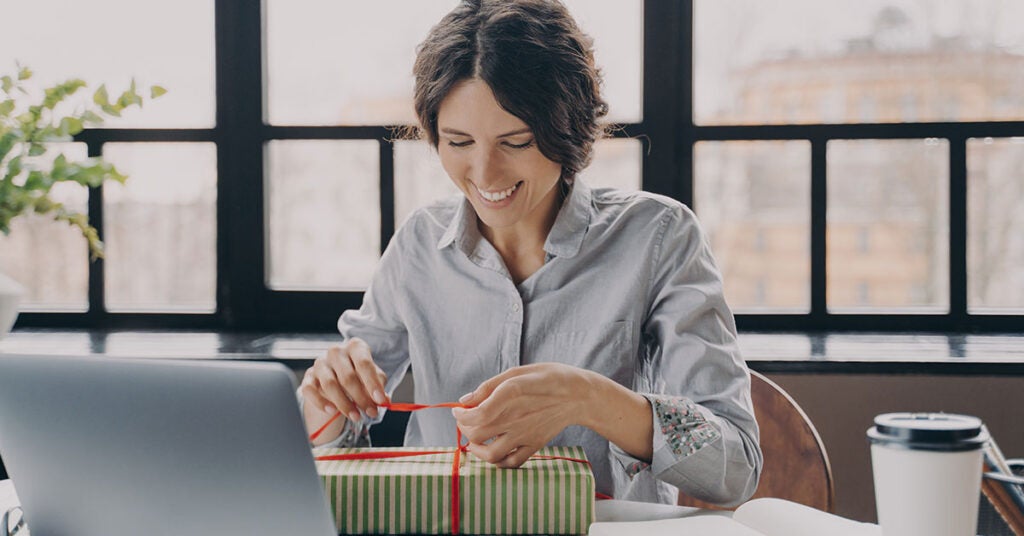 Grinch Stole Your Gifts?
This season, maybe you give the gift of choice! If you are looking for an alternative to your office holiday party, then help your employees feel valued and excited during the holidays with personalized gift packages. We suggest coming up with 5 different themed gift packages for your employees.
These packages could be themed for adventure, coffee, reading, etc. For example, an adventure-themed package would include a small Yeti cooler, Yeti Tumbler, an ice pack, and maybe a guide to US national parks.
Or perhaps a coffee-themed package could include an espresso machine, coffee-scented candle, and an Ember mug. You can either have pick-up or delivery options too!
There is one way to make gift-giving a lot easier logistically for everyone, especially your employees. Here's one way to keep it festive: Terryberry's gift selection program lets you create an online gift selection experience for your staff, partners, or customers.
Here's How It Works:
Set Your Budget, from $50​​​​​​ per gift
Send Your Recipient List
Terryberry Does the Rest!
Terryberry creates a customized gift selection website, branded for your organization. Your recipients will receive a welcome email with a gift selection link. There, they will see your personalized greeting and dozens of excellent gift choices. Your recipients enjoy the experience of selecting a gift they'll love!  Watch a video overview.
Awesome Awards
What better way to end the calendar year than by awarding your employees? Providing your employees with custom awards will help make your employees feel recognized at work. We know how dedicated you are to your employees, so why not show them?
Your employees work hard, and we think their contributions should be recognized in a significant way! With Terryberry's AwardChoice program, your recipients select a gift they will love from a curated collection of top luxury and lifestyle brands. Additionally, your own brand and message can be featured in the selection experience.
Terryberry creates a branded customized gift selection website for your organization. Your recipients will receive a welcome email with a gift selection link where they will be directed to a personalized experience and can select their gift from dozens of excellent choices.
Your employees work hard year round, and the holidays is the perfect occasion to show them you notice and appreciate them. From simple thank you notes to virtual office parties, there are plenty of meaningful ways you can show your appreciation for your team this time of year.
Ready to get started with Terryberry? Contact us today to get started with a Holiday Gifts program for your organization.