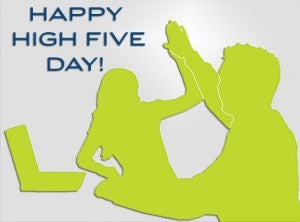 You might not know it, but April 18, 2013 is officially National High Five Day across the country. Originally started as a way of raising money for cancer research, folks slap their hands together all day long….with family members, friends, coworkers, even strangers, as  a way of raising money for cancer research instead of doing it via a long-distance race or a dance-a-thon or other more grueling physical activities. The gesture is also just a great way of expressing solidarity and encouragement for a job well done or to show affection and friendship to those you care about, and it's fun. National High Five Day  is growing in popularity every year, and we encourage our readers to participate in this well-intentioned and benevolent day of brother and sisterhood in the workplace.
Speaking of workplaces, the human resource professionals of Oklahoma who help to make that great state's offices, hallways, corridors and cubicles a better place for employees to earn a living will be congregating at the Oklahoma Human Resources Conference  next month – May 8th to 10th – to learn from each other and discuss many issues dear to the heart of Terryberry and our core mission. Employee appreciation and recognition continues to grow in importance as HR pros realize the value of keeping dedicated and knowledgeable employees engaged, motivated and feeling appreciated for their labors in the work place.
To represent Terryberry at the Oklahoma conference, our own business development manager Mike Anderson will be there with other Terryberry staffers and you can come by and meet them in booth #44. Mr. Anderson and his staff of the world's foremost experts on what employers in Oklahoma are doing to recognize their employees will be presenting demos of our exciting Give a WOW social media platform, where coworkers and peers can reach-out using social media to encourage, acknowledge and applaud the actions of their fellow workers at Internet speed. Give a WOW  is a very popular program offering at Terryberry for our clients, and we're pleased to offer this cutting-edge service in the 21st century to smart companies who want to communicate effectively and in a timely manner on employee recognition issues while building stronger internal teams.
Considering the intersection of National High Five Day and the Oklahoma Human Resources Conference within three weeks of each other, we're hoping some innovative conference attendees will stop by and consider trying-out Give a WOW to give a digital and virtual high five to someone in their company they'd like to encourage. We'll help you do it and you'll be amazed at how easy (and effective) social media-style employee appreciation can be.
High Fives for everyone, from Terryberry!