There's just something about sitting down with a morning cup of coffee and checking out the day's news. Whether it's through a newspaper in your hands, or a digital news feed, catching up on current events keeps us in touch with the pulse of our world. You can tap into our need for news by creating your organization's own internal company newsletter. It can be a great communication tool and a place to relay all of the new and exciting events that are happening in your company.
All it takes is a little initiative and following a few best practices, and you'll soon be ready to roll the presses.
1. Brand Your Company Newsletter
Begin first things first and come up with a creative name for your company newsletter. It should be something catchy that also works well with your company's brand. Keep the entire style of the newsletter aligned with your brand; this means tying in your corporate colors and fonts, as well as making the look-and-feel similar to your other branded materials. Also keep in mind that the newsletter should have a fun and upbeat tone, so you can be a little more whimsical with the design and layout.
2. Share Current and Relevant News
Feature new and exciting cover stories in each issue. Whether you have a lot of new things happening in your company, or you are struggling for ideas to write about, odds are pretty high that if your company is operational, you will find a story (and probably many of them) that are newsworthy. The idea is to communicate what's happening in your company, or what's fresh and cutting-edge in your industry, to everyone who works there.
3. Keep Your Employee Newsletter Organized
A table of contents or "inside this issue" section at the beginning of each newsletter that lists the major stories and sections will keep everything organized and easy to read. It will help your employees to be able to easily find the contents that interest them most.
4. Make it Celebratory and People-Focused
Highlight your employees who have upcoming birthdays and those who are reaching major milestones like service anniversaries or retirement. Employee spotlights can be a fun way to get your team more familiar with each other and spark a spirit of camaraderie among the group. Introduce new team members and include photos of recent company events. List career opportunities that are available within your company, and write about events or educational conferences that are coming up. The newsletter can also be a great place to spotlight customer praise or recognition received by your team.
Tip: use your employee recognition platform (like Terryberry's 360 Recognition Platform) as a source of great content about employee highlights and the positive things happening in your business.
5. Communicate Your Company's ABCs
The ABCs are the foundation of your company: the Attitudes, Behaviors, and Contributions your organization values the most. Communicate your company's own unique ABCs in your newsletter to help your team focus on what matters most. Include company goals, key performance indicators across departments, and wellness challenges, for example. This is your place to inspire and ignite passion in your people.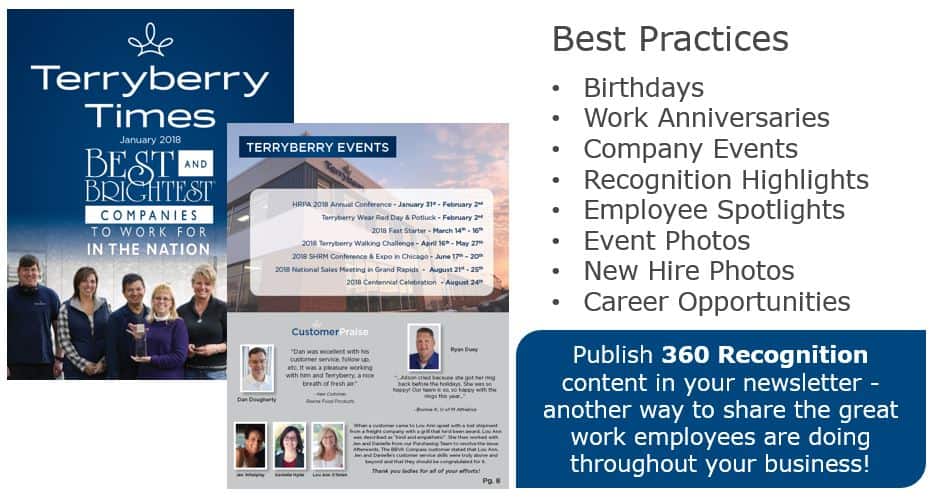 Remember that your internal company newsletter is not only a way to communicate relevant content to your employees, but it can be a powerful tool to motivate your team to be and do their best. It can have the power to foster teamwork and fuel employee engagement, which ultimately can mean a better and brighter future for your team and your company.