What is Employee Experience?
The employee experience page in Workify contains all of the 'life cycle' surveys for your company. These surveys are designed to gather data from the start of an employees recruiting process until they leave. The information that is gathered is used to help identify and improve the areas throughout an employee's tenure, that way your company can provide a better experience for your employees.
The surveys that we track in this page include:
Candidate Survey – If your company has a recruiting process in place, this survey is used for gathering feedback on the process that your candidates experienced. The data is used to analyze the processes that are currently in place in order to help your company improve in these areas, which in return will provide a better recruitment process.
On-boarding Survey – These are typically survey packs that consist of 2-3 surveys that an employee will recieve throughout the first few months of their on-boarding process. The data provided is valuable in making sure that your employees are receiving the tools and environment that your company strives to provide.
Exit Survey – Whether your company holds exit interviews or not, these surveys are important on capturing data on why employees are leaving your company. Workify has a database full of different exit possibilities that will help your company target key issues that are affecting your business's retention.
How do I get started?
In order to start creating your employee experience page please reach out to your account manager or clientsuccess@getworkify.com. We will help you design surveys that fit your company needs and also guide you on how to communicate and deploy these surveys to your company.
How do I view my results?
In your employee experience page you will have access to our advanced analytics dashboards. Once an employee completes a survey the results will populate into your dashboard in real time. These dashboards are separate from your engagement dashboards, and there will also be separate dashboards for each survey type.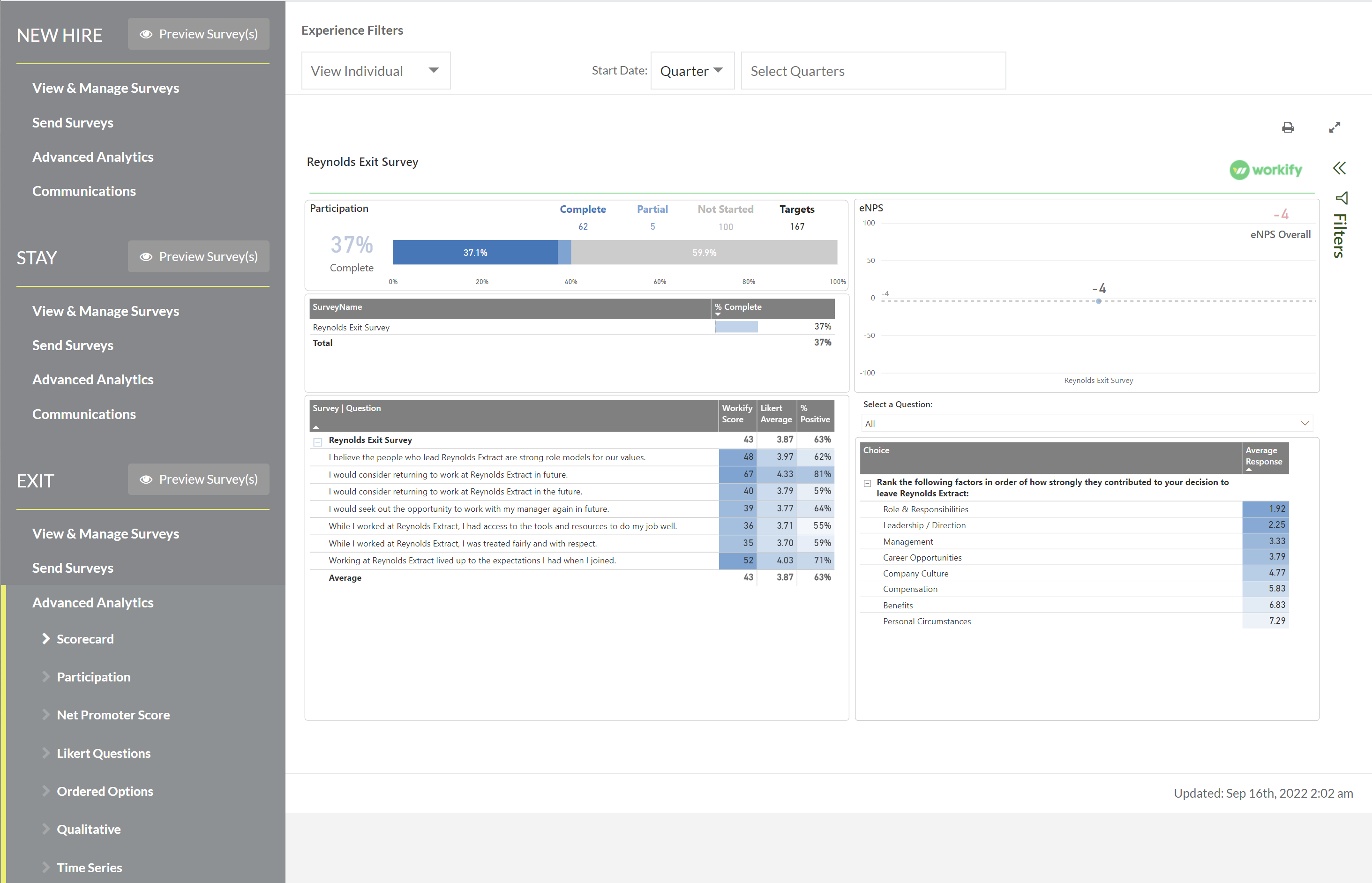 If you have any questions regarding getting started or the capabilities of the employee experience page please contact us at clientsuccess@getworkify.com.