When it comes to recognizing your team with a gift or award, it can be hard to know what it is they'll value most. In today's day in age, many people believe money is the most valuable gift. And while it's true money will always be relevant; it may not always be the most impactful.
This is because so many of us use money for practical purposes, like filling up our tank or setting it aside for a rainy day. This may undoubtedly be helpful, but it doesn't leave a lasting impact that excites us about our work.
Instead, imagine that you worked hard on a project or landed a big sale. Then, at a company-wide event you're publicly recognized for your achievement. Your boss or CEO hands you a personalized memento and speaks earnestly about how important your specific talents are to the greater mission of the company.
We're willing to bet that moment will inspire you to continue doing great work and will stay with you for years to come. It's not necessarily the specific item that excites you, it's what it represents. It's a permanent, tangible reminder that your work and talents are appreciated. This is why we believe custom awards will always have a place in employee recognition.
What Are Custom Awards?
Custom awards are a form of employee recognition that involves personalized hard goods or merchandise. These can include:
Trophies
Plaques
Corporate or championship rings
Pins
and much more
These awards can be given for a wide range of services. For example, custom awards can be given for outstanding work performance, significant tenure, or following certain safety protocols. The criteria really can be as unique as the award itself.
What are Championship Rings?
Similar to corporate rings, championship rings are awarded as a status symbol for the best of the best. A championship or premiership ring is a ring specifically presented to members of winning teams in North American professional sports leagues, as well as college and some high school tournaments.
These rings typically have personalized elements, such as a jersey number, making them unique to each team member. Adorned with diamonds and gemstones, these rings can be worth quite a bit of money and are coveted by most athletes today.
Terryberry's Custom Awards and Custom Recognition Jewelry
There are countless custom award and championship ring manufacturers on the market today, which can make choosing the right one a bit overwhelming. But here at Terryberry, our dedication to quality is unmatched.
Custom Plaques and Engraved Awards
Plaques and engraved awards can be used for achievements and milestones for all parts of your employee recognition program.  For occasions that require clear distinction, these unique symbols of achievement offer customized designs and honor exemplary service to the organization.
Desk Awards
When you need a unique award design for desktop display, consider Terryberry's selection of desk awards. From stone awards and classic marble awards to modern glass and steel designs, you will find an exciting array of desk award designs to commemorate any achievement.
Acrylic Awards
Our collection of finely crafted acrylic awards make excellent tributes as well as great motivators in corporate award and employee recognition programs. Each award is rendered in high-quality acrylic, then beautifully engraved with your logo, recipient's name, and their achievement.
Fine Glass and Optic Crystal Awards
Terryberry offers a distinctive collection of heirloom quality glass and optic crystal awards with engraving that will serve as show pieces in the homes, offices, and lobbies of your customers, vendors, and employees. Each corporate award is uniquely designed and crafted for a lifetime of cherished memories and pride.
Wood Employee Plaques
Nothing makes a statement through employee recognition programs like these distinctive employee recognition plaques. Black brass on walnut or cherry plaques set these awards apart from all others.  Personalized with recipient information and the ability to be customized with your logo makes this an unforgettable presentation option.
Custom Recognition Jewelry
For over a century, Terryberry has handcrafted custom recognition jewelry in the USA for companies, organizations, and athletic teams.
Custom Company Rings
Custom award rings are a powerful symbol of recognition, accomplishment, and honor. Terryberry's jewelers handcraft custom award rings in styles as unique as your organization, personalized with your logo, colors, or customized to the recipient. Add an accent of gemstones or diamonds to your corporate ring to take it to the next level.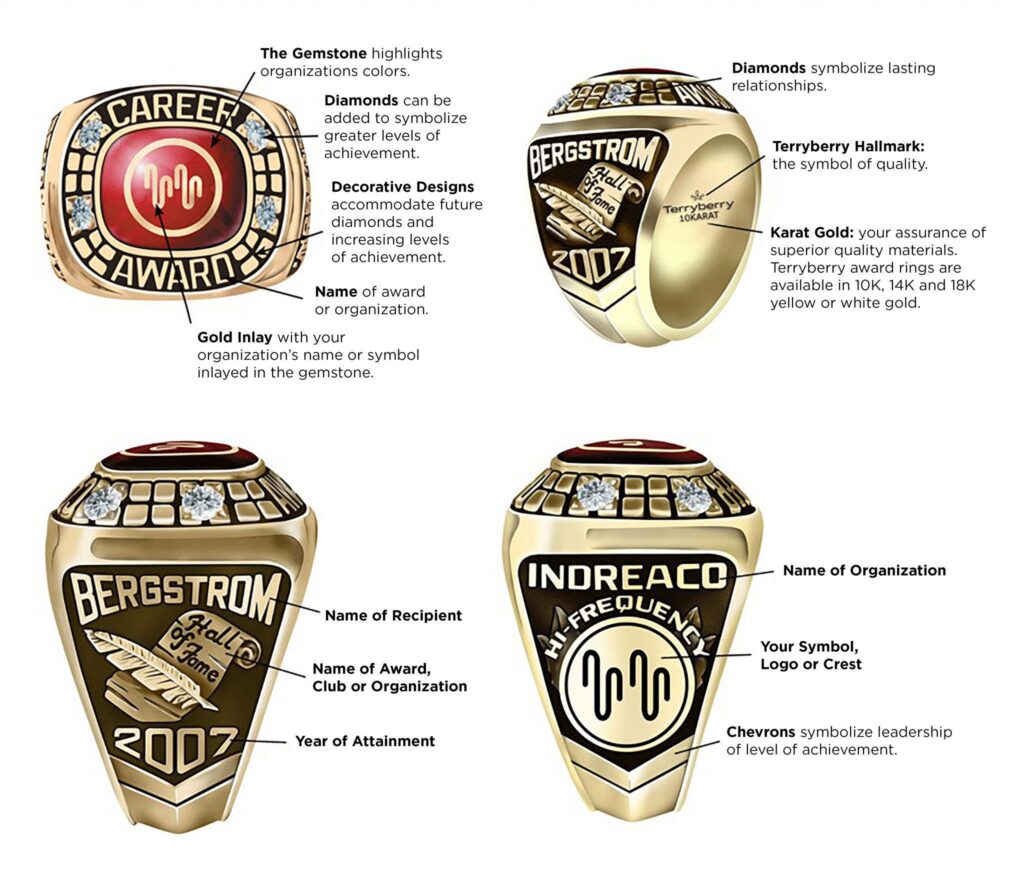 Custom Lapel Pins, Charms, & Tie-Tacs
Terryberry's custom recognition pins, tie-tacs, charms, and service pins showcase your logo and serve as a reflection of your identity for employees, donors or members. Terryberry's expert designers can work from your logo to create a one-of-a-kind design.
Custom Company Watches
Custom logo watches are the perfect solution to recognize important milestones or acknowledge exceptional performance. Accent the band of your business watch with your custom emblem, hand-crafted by Terryberry artisans.
Custom Championship Rings
Terryberry can help you design your own Custom Championship Rings to honor your team's big win. With Terryberry, you can create custom sports rings to showcase your team and your accomplishments. You can even choose from a variety of gemstones to match your team colors.
Custom Nursing Pins
Completing a nursing curriculum is a major accomplishment and requires an appropriate level of recognition. Terryberry's nursing pins are crafted to the highest standards using precious metals and gemstones to represent the achievement of your nursing students.
Getting Started
At Terryberry we consider it an honor to be entrusted by you to create the awards your recipients earn for their significant achievements. We hope you can see the great pride we take in hand-crafting the very finest awards for your organization and your people.
Contact us to discuss your custom logo award design idea, or visit our site to learn more about custom awards by Terryberry.