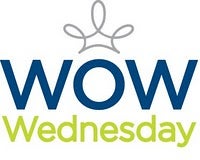 It's WOW Wednesday! HR leaders, execs, and managers: How do you WOW the people who go above and beyond for you in your business? Or, how have you been WOWed?
Today's WOW Wednesday comes from John.
He says: "I was a new employee (less than a month) on the job.  We were at a Bureau meeting with about 60+ people and the Director called me out (I was completely surprised) to be recognized for my positive attitude and positive engagement with others in the workplace.  While the recognition wasn't for a specific job performance or result, it demonstrated our core values and this made a difference and meant something to peers and leaders.  This simple act of being recognized and receiving a sticker to show off in my cubicle was not only a feel good moment, but very motivating!"
Share your own "WOW Wednesday" tip or story. Leave a comment here or post on Terryberry's Facebook Page or Twitter using hashtag #WOWWED. Make it a WOW day!
Recognize your co-workers or be recognized with Terryberry's interactive Peer-to-Peer Program. It's recognition, social-media style! Get the Free Trial!