Enhance employee recognition in your group. Get the employee recognition books that come packed with information and ideas from the employee recognition leader!
The WOW! Workplace
by Mike Byam
A Business/Management book for Human Resource Professionals, Business Leaders, and front line supervisors
Step by step, The WOW! Workplace will show you how to build a nimble, vitally responsive recognition culture and boost your employee recognition programs with the power to improve your organization from the inside out . . . starting today.
Mike Byam, managing partner of Terryberry, interviews top business leaders to find out what they are doing to energize and inspire their employees. Find page after page of refreshing, real-world ideas that managers can use to change the workplace culture and effectively use employee recognition to engage people, improve communications and retain quality employees.
Buy it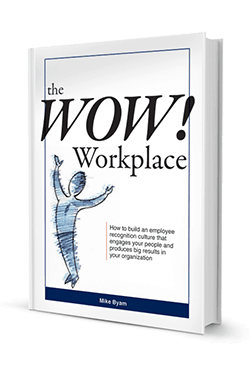 ---
Reasons 2 Reward
A business fable for business leaders
So many workplaces just don't get it! Employees need to be motivated and engaged for businesses to maximize productivity and profits; employee recognition can help.
Max Grimshaw returns to Wally World Theme Park as General Manager only to find that things are not like they used to be. In a park full of thrill rides, spectacular shows, and the smell of cotton candy, Max finds the employees unmotivated and disengaged from what Wally World is all about. Follow Max's journey as he transforms Wally World by using the simple formula: Look after your people + Look after your customers = Maximum Profits
Buy it