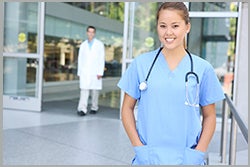 In a health care setting, nurses and other employees get a tremendous morale boost from hearing the stories about patients and families who have been positively impacted by their care.  Yet too often, praise never makes it to the patient care team.  Now, Terryberry's Recognition Inbox feature in the Give a WOW platform makes it easy for patients to share how they were affected by a nurse or staff member.
How does it work?
Using the Give a WOW Recognition Inbox, patients or family members can recognize a healthcare worker  who made a difference.  It's as simple as sending an email. The feedback is submitted to a queue for a manager to review.  With a click of a button,  it can be shared on a virtual Recognition Wall within the department or organization.
For hospitals and medical facilities, the personal narratives about great quality of care are a powerful tool.  This information is instrumental in improving retention, identifying top talent, and becoming a hospital of choice for both patients and staff.  Easy-to-use reporting tools make it simple for managers to spot their best talent and even provide additional recognition.   For the nurses and staff members, hearing the feedback from their patients is a major motivator and an important way to improve nurse morale.
Voluntary turnover in healthcare is significantly higher than the average across industries, and it's rising, according to an article in Health Leaders. Solutions like Terryberry's Give a WOW Recognition Inbox help health care leader provide their employees with the positive feedback and recognition they need to combating burnout and retain nurses and quality employees.