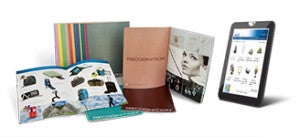 Global employee recognition leader Terryberry introduces several new employee recognition products specially designed to help employers reward and recognize workers' contributions more effectively for today's businesses.
Among the new offerings are: The 360 Recognition Platform, an all-encompassing online platform for employee recognition; The Recognition Collection 2015, an all-new award selection program; and The Folio, an award presentation kit.
Read the full press release.