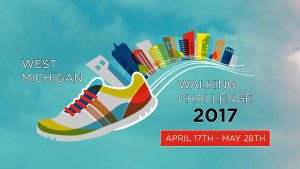 In just six weeks 52 companies, from all over West Michigan, walked more than one billion steps. That's right. One billion.
It was the first annual West Michigan Walking Challenge, and needless to say, it was an absolute grand slam. Don't believe it? Check out our infographic on the Challenge.
Looking to exercise our title as one of the 2016 "Michigan's Best and Brightest in Wellness," Terryberry brought out the wellness in full force. Throughout the course of the challenge, Team Terryberry was a constant source of motivation, encouragement and inspiration.
The West Michigan Walking Challenge was created by Terryberry as an initiative to increase awareness and engagement of health and wellness in the workplace, not only in our company but in other companies as well.
Employee healthcare costs rank among the top concerns of businesses today.
With research continually proving that healthier workforces reduce healthcare costs and create tangible benefits to the financial wherewithal of an organization, it's clear that employers need to be making drastic efforts to encourage healthy lifestyles among their employees.
"As healthcare costs continue to rise, it's becoming more and more imperative that everyone shares the responsibility in doing their part to improve wellness and keep those costs in check" says Terryberry's Managing Partner, Mike Byam. He comments, "We have been absolutely blown away by the level of engagement and personal success stories we have received over these past six weeks".
The West Michigan Walking Challenge is just one example of how an organization can improve health and wellness in a fun, friendly way.
Plus, check out the benefits of walking:
Reduces Anxiety
Improves Flexibility, Coordination, & Circulation
Strengthens Muscles
Boosts Creativity and Confidence
If your organization is interested in reducing healthcare costs and demonstrating to your employees that you value them as a person and genuinely care about their health and wellbeing, think about employee recognition software that rewards and recognizes healthy behaviors
Recognition programs are an amazing way to encourage healthy behaviors, plus recognize and reward employees for wellness achievements.
Don't know where to begin? Try giving this a read: 6 Step Plan to Start an Employee Wellness Program in Your Company.
Interested in the 2018 Challenge? Keep up with the latest updates on our Facebook page:  
www.facebook.com/wmwalkingchallenge