Employee satisfaction is something any manager or HR leader should be prioritizing in today's environment. Not only because it's considerate, but because satisfied employees are less likely to quit and more likely to be highly engaged.
In short, employee satisfaction is good for business.
But unfortunately, employee satisfaction has been on the decline in recent years. Gallup's State of the Global Workplace: 2022 report found that, along with dissatisfaction, workers are experiencing staggering rates of both disengagement and unhappiness.
60% of people reported being emotionally detached at work and 19% as being miserable. Only 33% reported feeling engaged ­­— even lower than in 2020.
Here, we'll discuss what employee satisfaction is, why it's important, and 5 ways to improve it.
What is Employee Satisfaction
Employee satisfaction is a term used to describe how content, or satisfied, an employee is with their experience at a company. This ranges from their job specifically, but also expands to the entire employee experience as well as their satisfaction with the company as a whole.
Employee satisfaction is a common performance measure that can also help determine the overall health of an organization, as well.
A theory by Frederick Herzberg states that employee satisfaction has two categories: hygiene and motivation. Hygiene, in this case, refers to things like salary, appropriate working conditions, and benefits.
Motivation, on the other hand, is what creates an engaged, happy, satisfied employee. These factors include things like rewards, recognition, and career growth.
Why is Employee Satisfaction Important?
Employee satisfaction and retention are directly related. Additionally, employee satisfaction and engagement go hand in hand. And retention and engagement are key metrics for any company.
According to Gallup, disengaged employees cost their company the equivalent of 18% of their annual salary. Other sources estimate losses at up to 34% of the employee's annual salary.
Furthermore, research shows that highly-engaged employees bring in 21% more profit to an organization than disengaged employees.
How to Improve Employee Satisfaction at Your Company
1. Positive Company Culture
Company culture is a critical aspect of employee satisfaction. In fact, research from MIT found that toxic company culture was the primary reason for people quitting their jobs from April to September of 2021. This same study found that a healthy work culture is 10 times more important to employees than pay.
So, if you want your employees to be satisfied, you need a healthy work culture. Take the time to evaluate your current culture, then take steps to respond to the feedback you receive.
RELATED: Work Culture: What It Is, Why It Matters, & How to Build It
2. Evaluate and Communicate
Consider giving employee surveys to gain a deeper understanding of your current environment. You may think your team is generally satisfied only to find your employees are having a different experience altogether.
Or you may already know you have an employee satisfaction issue, but you won't truly know where the dissatisfaction is coming from until you ask. For example, you may think your employees will ask for higher pay, but the survey reveals your employees care more about work flexibility.
Then, once you've gathered your data, take action and communicate your plans to your team. This will not only get everyone on the same page, but it will also show your team that you're taking employee satisfaction seriously.
3. Provide Opportunities for Career Advancement
No one truly wants to just punch in and punch out every day. People want to feel as though they're growing, developing, and advancing.
Furthermore, the ability to develop skills is a fundamental component of employee engagement and satisfaction. Companies with a culture of growth tend to attract and retain high-performing employees who develop stronger relationships with the company.
This is especially true for younger employees. According to a LinkedIn study, 40% of young workers said they were willing to accept a 5% pay cut to work in a position that offered career growth opportunities. Additionally, 76% of Gen Zers want more opportunities to move up or increase responsibilities at work.
So, improve employee engagement by talking to your employees about their goals are, where they want their career to go, and which skills they want to develop.
4. Pay Well
While pay isn't the only factor when it comes to employee satisfaction, it is one we can't ignore.
In fact, one survey found that 62% of people are concerned that their pay won't keep pace with inflation. And unfortunately, job switching has shown to be an effective raise solution.
So much so, this same survey found that 49% of people who switched jobs during the pandemic received a 10% or more pay increase.
This mean, leaders should take the opportunity to prevent dissatisfaction and voluntary turnover by proactively addressing pay negotiations – if an employee has done consistently great work, give them a raise and talk to them about their future. Waiting for employees to open the discussion just leaves the door open for dissatisfaction to grow.
5. Give Recognition Early and Often
Recognition is another powerful motivator that can significantly increase employee satisfaction. Companies that recognize the hard work of their team members tend to have lower turnover rates and higher engagement levels than companies that don't offer recognition programs.
In fact, a study by the American Psychological Association found that 93% of employees "who reported feeling valued said that they are motivated to do their best at work." Another study found that when employees believe their efforts will be recognized, they're 2.7x more likely to be highly engaged in their work.
So, consider developing an employee recognition strategy. Whether it's employee recognition software, milestone and service awards, or employee benefits, there's a program for every company.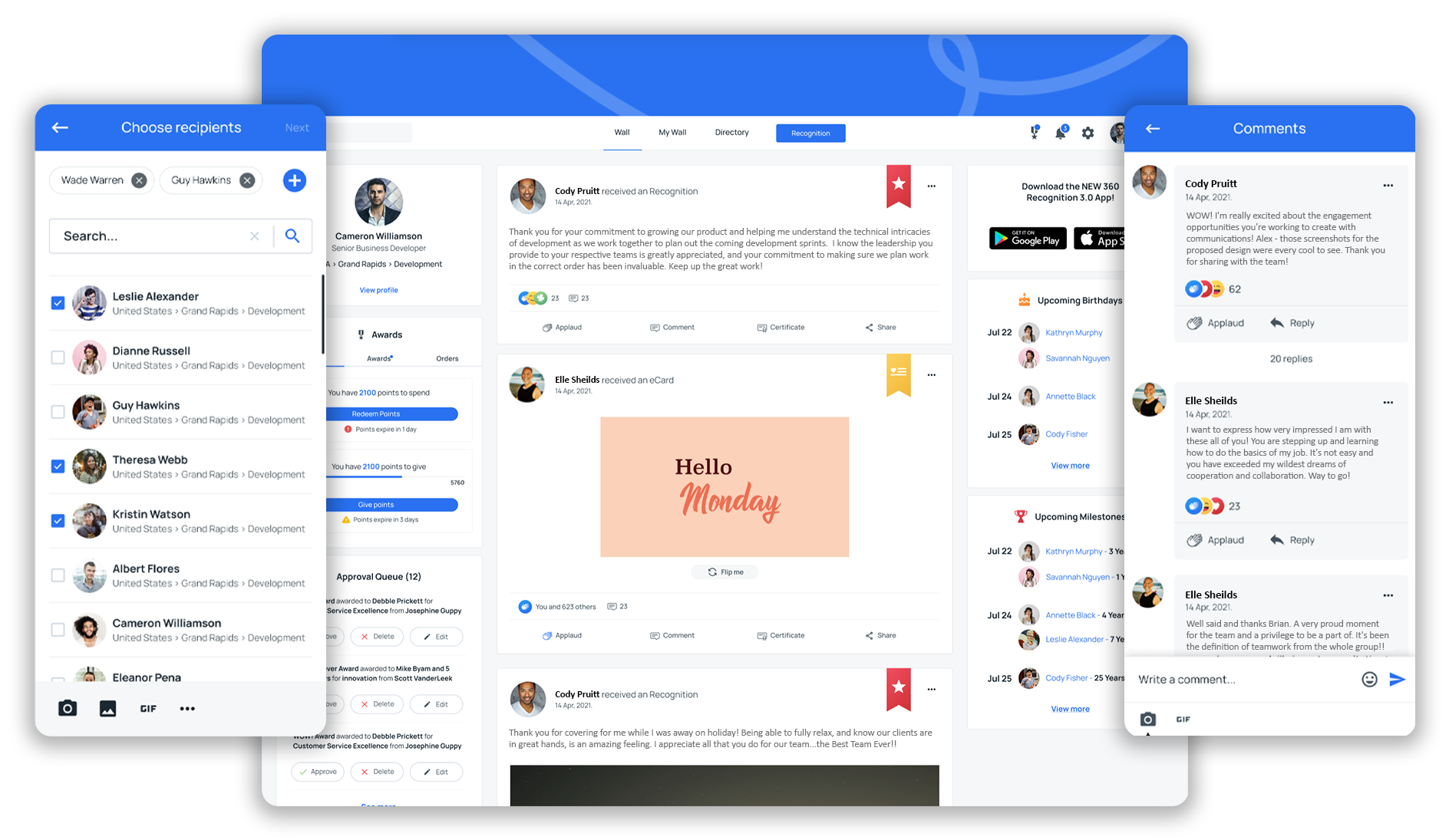 Start Building an Employee Satisfaction Today
Building a team of satisfied employees won't happen overnight. It will take time and consistent effort for these tactics to come to fruition. And if you're looking for guidance along the way, Terryberry can help.
Terryberry provides solutions to help drive employee satisfaction through effective employee engagement. These solutions include:
Ready to learn more? Schedule a demo with our team to get a hands-on walkthrough of how Terryberry can transform the culture of your workplace.