Early career milestones, including 1-year work anniversaries, deserve to be recognized as a vital retention strategy. According to a study from the Harvard Business Review, voluntary turnover peaked just one year after the employees' start dates. Celebrating with 1-year anniversary gifts will make your employees feel valued and re-engaged during a critical stage when some of them might be seeking other options.
Use Terryberry's AwardChoice program to set up a budget for work anniversary level 1. We will then provide a selection of items from top brands that your recipient can choose from and enjoy.
Download a Brochure
Other Services to Make Work Anniversaries Special
Browse some of our other services to add WOW factor to your employee service anniversary gifts:
Contact us to Learn More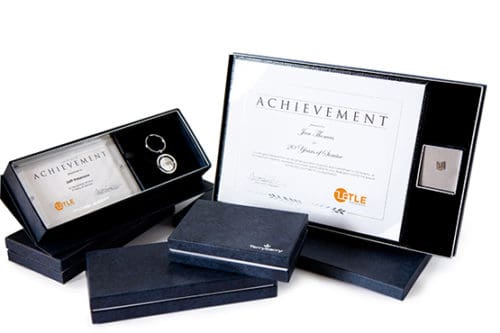 25,000+ clients trust Terryberry for employee rewards and recognition. Here are just a few.

Headquartered in Grand Rapids, MI with 30+ locations worldwide, Terryberry has specialized in employee recognition products and services since 1918.  Trust your work anniversary gift program to an established partner with a  proven record.