In a move designed to strengthen and enhance its offerings and capabilities, CottrillsReward, a 28-year-old reward and recognition company serving the UK, announced its merger with Terryberry, a 100-year-old global recognition provider. Going forward, the organisation will trade under the Terryberry banner in the UK.
Founded over 25 years ago in Macclesfield, the company continues to serve clients such as Tesco PLC, AstraZeneca, Ford Motor Company, Network Rail and Marks & Spencer with a wide array of reward and recognition programmes, such as long service awards and targeted incentives. Offerings are designed to engage and stimulate participants to achieve business objectives.
The Terryberry UK management team will be led by Managing Director Paul Calnan, who returns to the business that he first joined in 2010 and will lead the team in developing the future company strategy in the UK and Europe.
"Joining with US-based Terryberry allows us to offer clients an expanded selection of reward and recognition offerings, including more fantastic online tools and administration features than ever before. We now offer a global support network with multi-lingual functionality and additional capabilities to equip us with more resources to assist our clients with bespoke projects. This is an exciting new era for our customers and we couldn't be more thrilled to bring even greater value and impact to our clients,"
Paul Calnan, Managing Director Terryberry.
"We are delighted with the merger of these great businesses. Our combined strengths mean we can provide clients in the UK and worldwide with new and innovative reward products to support their business ambitions and engage all employees."
Mike Byam, CEO of Terryberry
Terryberry continues to operate in Macclesfield and is poised for growth.  The new partnership also involves a move to a larger, more modern facility at 13-15 Beech Lane, Macclesfield, Cheshire SK10 2DR, with a recent opening celebration attended by UK Member of Parliament David Rutley.
(Left to Right) Terryberry Partner David Beemer, Terryberry Marketing Director Jenny Watkins, Terryberry UK Managing Director Paul Calnan and UK Member of Parliament David Rutley.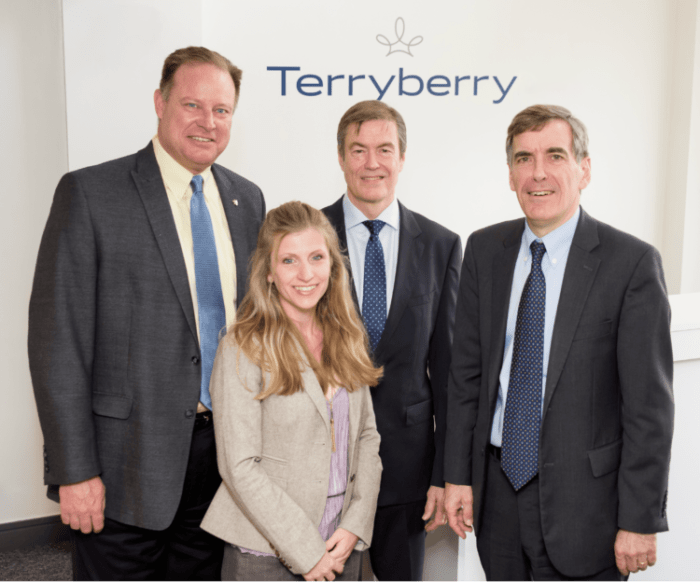 "It was great to meet with Paul and to learn more about this dynamic and expanding local company. Terryberry is a real Macclesfield success story and the recent merger is a testament to the energy and dedication of all its employees to build a strong and sustainable business, and I wish all at the company continued success for the future."


CottrillsReward Founder Karl Massey, who steps back from the reward and recognition industry and hands over the reins to Calnan stated:
"This partnership is a great step for all, as Terryberry's vision and reputation aligns perfectly with the values I have always held dear; utmost quality and service for our customers. I am pleased that the tradition I began 28 years ago will be carried proudly forward through this development for our clients, employees and our local community."

Karl Massey, CottrillsReward Founder
Pannone Corporate Partner Tom Hall added:
"We are delighted to advise on the merger of two of the leading companies in the employee reward and recognition industry on both sides of the Atlantic. There are excellent synergies between the two companies and, by becoming part of Terryberry, CottrillsReward (now Terryberry) will be able to offer its clients enhanced services to support employee engagement worldwide."

Tom Hall, Pannone Corporate Partner
Accountants Hurst provided financial due diligence and corporate finance support to Terryberry. Terms of the merger were not disclosed.
Terryberry leadership anticipates rapid growth in the UK:
"We are eager to announce a variety of new recognition and rewards offerings at the Employee Benefits Live Conference in London this Autumn which we expect to be enthusiastically received by the marketplace."
Paul Calnan, Managing Director of Terryberry.