Handshakes can be serious or fun, formal or informal. Think about meeting someone new at a business meeting or a job interview, about negotiating an agreement, closing a deal, greeting a friend, celebrating a victory, or even accepting defeat. What do all of those situations have in common? A handshake. It's such a common part of our culture that we barely even think about it, or stop to consider what the world might be like without the handshake. Less intimate than a hug, but more personal than verbal conversation alone, the handshake is an invitation of sorts. It's a way of reaching out to others and welcoming them into our personal space – a way of creating and sustaining relationships.
The last Thursday of each June we celebrate National Handshake Day. This year it falls on June 28. How will you celebrate? If you hold a managerial role at your company, make it a point to shake hands with everyone on your team. Extra points if you offer some verbal praise and words of appreciation to each person.
A handshake along with a bit of praise can go a long way in making your employees feel appreciated. For more employee recognition ideas, tips, and tools, check out Terryberry's Resources.
Another way you can observe the holiday: shake hands with and thank people that you ordinarily would not throughout your day. Think about your mail carrier, the courier who brings or picks up deliveries to and from your office, or the person who delivers lunch. Introduce yourself to a stranger in the elevator, or the person next to you in line as you wait for your morning cup of joe. Might you get some strange looks? Yes, but the reward of feeling a little more welcoming, a little more outgoing, and a little more human will far outweigh any awkwardness or unresponsive attitude you might encounter. You might even make someone's day. Tell them about National Handshake Day and spread the word.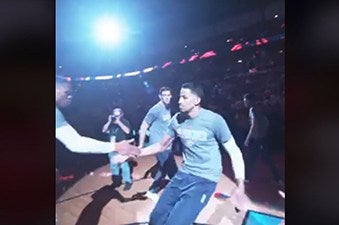 Check out this fun video of last year's National Handshake Day for some creative handshakes, then post a photo or video of your own observance of National Handshake Day on Facebook, LinkedIn or Twitter, using the hashtag #RecognitionHolidayChallenge. When you tag or mention Terryberry in your post, you'll be entered in our 12 Months of Recognition challenge for the chance to win big prizes!