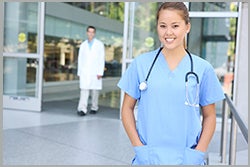 Many health care organizations recognize the value of nurse appreciation to encourage and honor nursing professionals in the important work they do. 
Florence Nightingale paved the way for the nursing profession in the mid 1800s.  She began the work that would create a legacy of professionals who comfort and heal. It is tough to find an individual in our modern world who has not benefited from the skill and compassion of a nurse.
"We'd all be worse without a nurse." – author unknown
National Nurses Week is right around the corner and it's a fitting opportunity for all of us to say thanks to the nurses who have made a difference.
There are many recognition gifts and programs that are fitting ways to demonstrate nurse appreciation.  A recognition pin with the hospital or practice's logo is a classic choice.  Health care organizations who implement Terryberry's recognition collection can let their nurses select a gift of their choice from popular items.
Terryberry has been honored to work with hundreds of hospitals and physician practices throughout North America and Europe to help health care organizations give their nurses recognition they richly deserve.