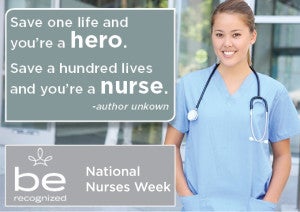 National Nurses Week runs from May 6 through May 12 each year. It's a great time to recognize the compassionate and skilled nurses that make such an important difference in healing and care. How will you be showing your appreciation for nurses' hard work, compassion and knowledge?
Here are a few Nurses Week ideas:
Healthcare organizations with a culture of employee recognition for their nurses and staff have better patient satisfaction and clinical outcomes. In a Gallup study of 200 hospitals, they found that the number one variable correlating to mortality was the engagement level of nurses. The level of nurse engagement – their satisfaction and happiness at work – can actually lead to saving lives. Further, in another study, it shows a strong correlation between employee engagement and reducing staff turnover and absenteeism.
Is National Nurses Week the right time to take the next steps with your healthcare organization's employee recognition program? Get started today with nurse appreciation gifts.